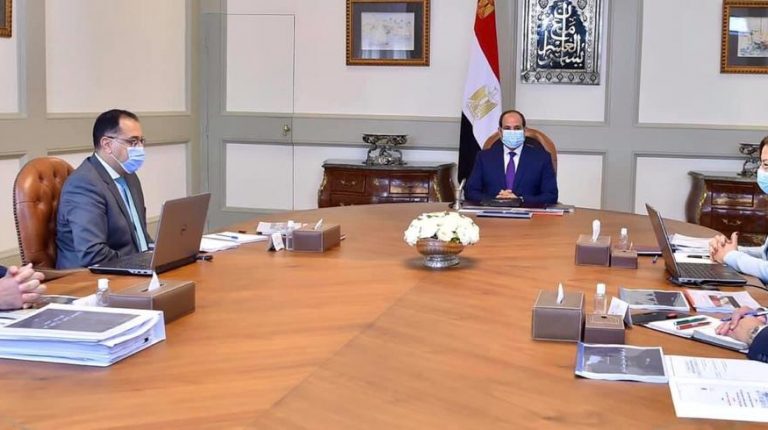 In a high-level meeting, President Abdel Fattah Al-Sisi has undertaken a review of Egypt's economic indicators due to the repercussions of the coronavirus (COVID-19) pandemic.
In the meeting, Al-Sisi met with Prime Minister Mostafa Madbouly, and Minister of Planning and Economic Development Hala El-Said, and Executive Director of The Sovereign Fund of Egypt (TSFE) Ayman Soleiman.
In a statement, a presidency spokesperson said Hala El-Said presented a review of the situation from the start of the year until the virus outbreak.
El-Said noted that data for January and February 2020 showed remarkable growth in Egypt's main economic sectors compared to 2019. The data indicates that the rate of economic growth was proceeding according to state goals, but the slowdown in many activities following the start of the coronavirus crisis led to a decline in those rates.
Egypt will, however, remain among those countries that will achieve positive growth rates by the end of the current fiscal year compared to emerging economies and other countries with similar markets.
El-Said also presented a detailed analysis of the various effects of the ongoing health crisis on Egypt, particularly on the economic, commercial and service sectors.
She highlighted the urgent measures by the government to reduce the severity of the economic impact. This came alongside a review of the planned structural reforms that would lead to recovery, sustained growth and the creation of more job opportunities.
The efforts take into account the continued evolution of the global situation and the unstable international economic situation. The minister added that these measures and reforms were developed through community dialogue with the participation of many academics and representatives of the private sector.
Al-Sisi directed for continued work to take place in facing the economic challenges due to the global pandemic.
The continued efforts would ensure the sustainability of the positive results achieved by Egypt's economic reforms, especially in supporting the most economically affected sectors, such as tourism, service activities and manufacturing industries.
This comes in addition to providing strategic goods, such as food and medicine, along with increased state efforts to benefit from the financial and technical support offered by international institutions.
There are continuing efforts to increase local manufacturing, to reduce reliance on imports, as well as a focus on training and enhancing the industrial sector.
The ministerial meeting also witnessed a review of developments in mobilising TSFE along with its business strategy and targeted projects. This would see increased diversity through its assets and sub-funds, as well as enhanced capabilities in overcoming any obstacles to direct investment, and providing additional investment opportunities for local and international investors in new sectors.
Al-Sisi directed that TSFE focus on maximising the added value of state assets and properties by tapping in to their potential as effectively as possible. This would ensure sustainable financial returns are achieved by establishing good management and exploitation of those assets and properties.
This comes in addition to maximising the fund's role in pushing economic growth rates by reaching out to local and international investors for priority sectors. It would also maximise cooperation between the fund and other global sovereign funds