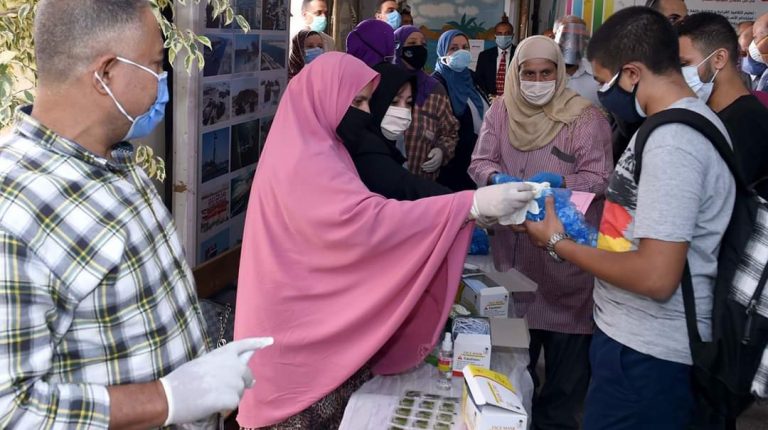 The Thanaweyya Amma exams, Egypt's school-leaving qualification exams, began on Sunday with over 650,000 students performing the Arabic language exam nationwide.
This year's exams have witnessed unprecedented precautionary measures due to the novel coronavirus (COVID-19).
Photos shared on social media in the early morning showed dozens of students and parents gathered outside schools, without following social distancing measures.
Minister of Education Tarek Shawky has condemned those photos showing parents gathering in front of exam committees.
Shawky warned parents against crowding outside schools, asserting that he has directed that exams committees organise students inside schools. He noted that the Security Directorate is responsible for maintaining order outside schools. 
Official Ministry of Education sources announced that the ministry did not receive any complaints from students regarding the Arabic exam's questions. The sources added that the exam was clear and unambiguous, and followed the curriculum covered before 15 March, when schools across Egypt were suspended.
Also on Sunday, an Al-Azhar Institute in Cairo's Nasr City district recorded the first suspected case of the coronavirus.
The suspected case was transferred to a nearby hospital via an equipped ambulance which was on-hand for such instances, for the necessary medical examinations to be carried out.
On Sunday, Prime Minister Mostafa Madbouly inspected the King Fahd Schools Complex, also in Nasr City, to ensure the required precautionary measures for the thanaweyya amma exams were applied.
During the inspection, Minister of Health Hala Zayed said the school has two specially prepared rooms in which to examine cases that are reportedly suffering from high temperatures.
Zayed added that her ministry, in cooperation with all state agencies, has secured and sterilised exams committees nationwide. This comes in addition to taking all the preventive measures for the technical secondary exams.
Zayed also said that about 100 million packages of medical supplies were transferred to exams committees nationwide. This includes face masks, medical gloves, shoe covers, sterilisation tools, self-sterilisation gates, and body temperature detectors.
The minister asserted that doctors and nurses will be available at exam committees, with ambulances deployed outside should any suspected cases be found. If any student does have a high temperature, they will be transferred to a hospital via ambulance and their exams will be postponed.
Face masks were handed to both students and invigilators involved in the exams process. Rooms will be sterilised on a daily basis before the start of exams, and exam committees will accommodate only 11 students per room.
The Ministry of Education has allowed for students who were set to sit their thanaweyya amma exams this year have the option to adjourn their exams until next year instead. This will have no impact on their final grades or mean they run the risk of failure.