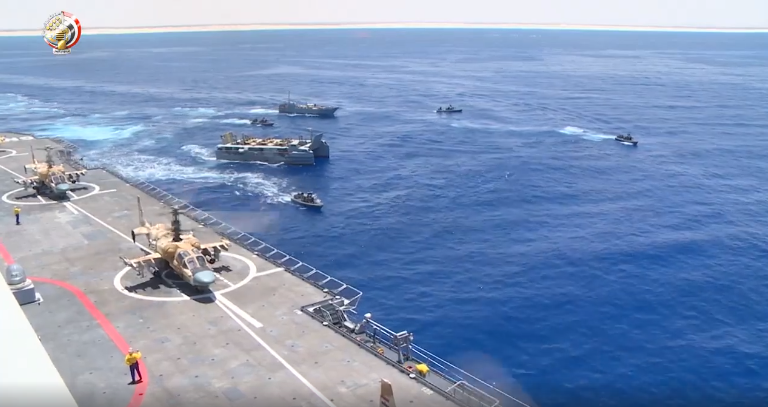 Military drills, dubbed "Hasm 2020", continued on Saturday in Egypt's western region, in the presence of Chief of Staff for the Armed Forces Mohamed Farid.
The manoeuvres aimed at facing mercenaries and threats on the country's western borders. A military statement on Saturday said, "The manoeuvres were instigated in the western region due to sharp and quick variations that the region has been witnessing recently."
Retired Egyptian army officer and military expert Talaat Mesalam told Daily News Egypt on Saturday that "Hasm 2020" aims to prepare the Armed Forces, especially in the Western Military Zone, for any possible confrontation.
"The Hasm 2020 drills also show that the Armed Forces now know the enemy they may counter," he added.
Mesalam referred to previous remarks by President Abdel Fattah Al-Sisi, in which he said that Egypt considers any advance of militia towards Libya's Sirte and Jufra as a 'red line' that cannot be crossed.
The military expert said that Al-Sisi's words mean that Egypt will confront any forces that cross this line.
"Hasm 2020 sends no message to anyone," Mesalam stressed, explaining that military exercises are necessary for all armies, so that they can be ready to conduct their mission.
The Armed Forces' land, naval, and air defence forces, including Sa'ka Forces (Thunderbolt Forces), took part in the drills. The army shared a video, entitled "The Egyptian Army defends rather than threatens", that showed the exercises.
The drills started with airstrikes by several multi-task aircraft and various exercises by naval forces and Special Forces. The army carried out successful raids on a coastal target using speedboats pushed by a Mistral Helicopter Carrier.

Maritime units launched a number of Harpoon missiles from naval destroyers and frigates. Meanwhile, naval corvette and frigates launched missiles, covering Sa'ka Forces who conducted other military exercises.
The Hasm 2020 manoeuvres started last Thursday with drills by air defence forces, aimed at safeguarding land troops. It also targeted hideouts and areas occupied by the mercenaries as well as their command and logistical support places.
The Chief of Staff inspected the drills and discussed fighting methods with top military commanders, and the best ways to accomplish missions.
Last month, Farid said that Egypt's Armed Forces are at the highest level of readiness to confront all dangers and challenges facing the country, and to protect its borders.
President Al-Sisi stressed that the country's army is ready to defend Egypt's national security, inside and outside its borders. Addressing troops and forces in the Western Military Zone in June, Al-Sisi said that he appreciated their continuing efforts to protect the country's western borders from threats.
Al-Sisi has made it clear that any direct interference from Egypt in Libya has international legitimacy now, as it aims to protect and safeguard Egypt's western borders from threats posed by terrorists and mercenaries.

Turkey is, itself, preparing to conduct manoeuvres entitled "Naftex", in different regions off the Libyan coast within days. So far, it has sent a total of 15,000 Syrian mercenaries to fight in Libya with the Government of National Accord (GNA), the Syrian Observatory for Human Rights said late June.
Turkey has recently intensified its military support for the GNA. It is already providing drones and air defence systems, weapons, and Syrian mercenaries, which have helped the GNA to claim key victories in recent months against its rival the Libyan Arab Armed Forces.