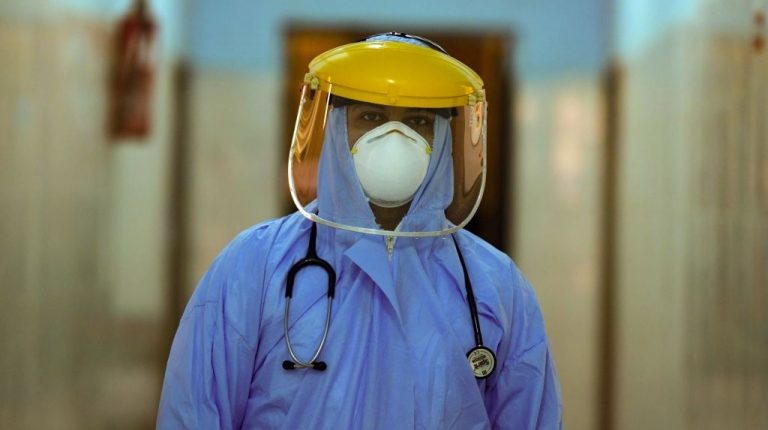 A total number of 125 Egyptian doctors have died due to the novel coronavirus (COVID-19), according to Dr Ibrahim El-Zayat, council member at the Egyptian Medical Syndicate (EMS).
In a media statement on Friday, El-Zayat said that Dr Yasser Al-Sharkawi, who was serving at the Al-Mahalla Heart Disease Treatment Centre, was the latest COVID-19 fatality among doctors. 
El-Zayat reaffirmed that healthcare teams are the real heroes on the frontlines of the battle against the ongoing global pandemic. 
On Saturday, the Ministry of Health reported 923 new cases and 67 new deaths across Egypt. The country's total number of confirmed cases has now reached 81,158 cases, with 3,769 fatalities, the ministry added. A total of 23,876 cases have recovered and been discharged from quarantine facilities at hospitals.
Meanwhile, the EMS demanded that the government release doctors who were arrested after criticising the government's performance related to the coronavirus crisis. 
EMS Secretary General Dr Ehab Al-Taher said that some were imprisoned after they published opinions on social media objecting to the government's handling of the crisis.
Al-Taher stressed that the situation needs to be contained for it to end, and to prevent further anger among doctors.
In June, Prime Minister Mostafa Madbouly said that the absence of doctors in some hospitals was the reason for so many COVID-19 deaths.
The prime minister noted that the government would take the appropriate legal measures against healthcare workers who absented from work during the crisis. At the same time, however, he also praised the role of healthcare workers in serving the nation during this critical moment. 
The EMS has strongly refuted Madbouly's statements. It issued a counter-statement stressing that, since the start of the crisis, doctors have been an example of great sacrifice, and that so far, over 3,000 doctors across Egypt have been infected with the virus.
Al-Taher added that the increasing anger among doctors has been caused by multiple factors, including the daily dangers to which they are exposed and the lack of adequate protections. 
The syndicate has called upon Public Prosecutor Hamada Al-Sawy to release those doctors in pre-trial detention over investigations into criticism of the healthcare system in Egypt.