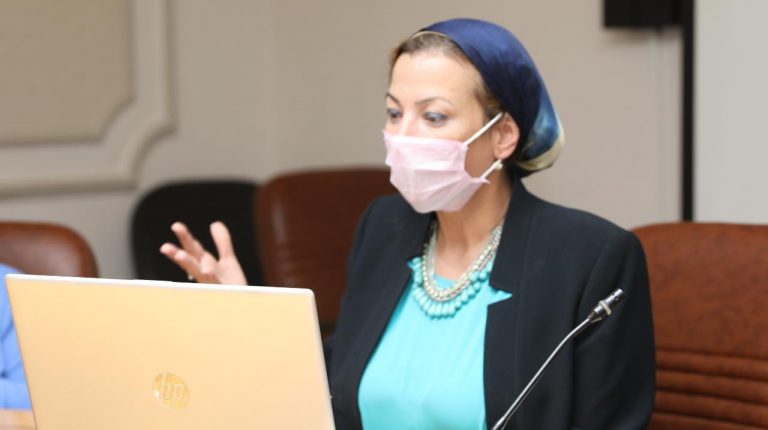 Egypt's Minister of Environment Yasmine Fouad participated in the virtual launch, last week, of the "Green Recovery" digital platform.
The launch occurred in the presence of over 45 Ministers of Environment from around the world, as well as UN Framework Convention on Climate Change (UNFCCC) Executive Secretary Patricia Espinosa. Also present at the launch was Alok Sharma, President of the 26th session of the Conference of the Parties (COP26). 
The "Green Recovery" initiative was launched by Japan's Minister of Environment, Shinjirō Koizumi, who is seeking to boost international cooperation on climate change through the response to the novel coronavirus (COVID-19) pandemic.
During her speech, Fouad stressed the importance of investing in climate change and environmental protection related issues. She also affirmed the commitment made by developed countries regarding their pledges towards developing countries.
Fouad said that there have to be three shifts as the cornerstone of combating the global health crisis, namely towards a circular economy, decarbonisation and decentralisation. She added that to promote these transformations, it is necessary to encourage climate policies, as well as financial and environmental protection policies. 
"The coronavirus has demonstrated the urgent need to ensure a coherent approach to addressing climate change, protecting biodiversity, and combating land degradation," she said.
The minister also stressed the importance of pursuing, as goals, the necessary integration between the three Rio conventions, which cover: the Convention on Biological Diversity (CBD); the United Nations Convention to Combat Desertification (UNCCD); and the United Nations Framework Convention on Climate Change (UNFCCC).
Fouad noted that Egypt is working to include international environmental standards across all its projects included under the national investment plan, as well as other projects that will take place over the next three years. She added that 30% of Egypt's projects that fall under the current fiscal year's budget include environmental standards.