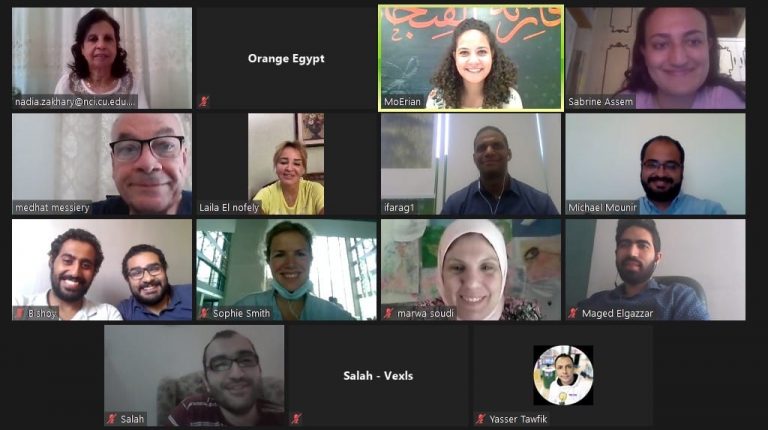 Orange Egypt has announced the results of the Orange Social Venture Competition via a video conference. The announcement saw three Egyptian teams selected from among an extensive range of innovative entrepreneurs, with the teams set to participate in the Orange Social Venture in Africa and the Middle East.
A jury of leading experts and businessmen chose the top three winners, with the "Vexls" team winning the first place for inventing a graphic design platform for non-professionals. In second place was the "Ideasgym" team, who presented an innovative online educational content. The "My Angel" team came in third place, for their mobile widget that helps hearing and vision impaired communicate by phone and video.
The three winning teams have been nominated for prizes worth €50,000 in the international competition covering Africa and the Middle East, in addition to the financial awards that were given to them by Orange Egypt. In addition to the main competition, Nabta Health won the best project for empowering women on the competition's sidelines.
The Orange Social Venture Prize mainly focuses on supporting startups and entrepreneurs. It also seeks to provide great support to developers who harness modern technologies to serve the community with its various categories, and look to simplify the use of complex technology to be more widespread among the majority of those interested in developing their skills.
Furthermore, the projects were evaluated according to specific criteria monitored by a group of professional juries, namely Professor Medhat El-Messiri, Professor of Physics at the Faculty of Biochemical Engineering at Cairo University, and Sabreen Assem, Co-founder and CEO of UNTAP.
The jury also included Ibrahim Farag, R&I Senior Manager at Valeo Egypt, Michael Mounir, Senior Manager, Digital Services, Online Channels, E-Payments, Transformation at Orange Egypt, and Dr Nadia Zakhari, former Minister of Scientific Research and Professor of Cancer Biology Department at Cairo University's National Cancer Institute.
Orange Social Venture, which has become a vital platform that reinforces entrepreneurs, is divided into two qualifying stages. The first one is a local competition held in each country out of the 17 countries where Orange operates in the Middle East and Africa. The winners from each country undergo different qualifying stages until they reach the final phase. The fin ceremony will be held next November, and three winners will be selected.
Besides Egypt, the competing countries include Tunisia, Senegal, Botswana, Burkina Faso, Cameroon, Côte d'Ivoire, Guinea-Bissau, Guinea Conakry, Jordan, Liberia, Madagascar, Mali, Morocco, Sierra Leone, the Democratic Republic of the Congo, and the Central African Republic.
Hala Abdel Wadood, Head of Public Relations and Corporate Social Responsibility at Orange Egypt, said she is thrilled that Orange Social Venture Egypt reached its final stage. She noted that it was an interesting marathon through which different experiences have been exchanged among different companies and entrepreneurs.
"The conclusion of the local competition is the beginning of an extremely amusing phase of the Orange Social Venture, whereas projects from different countries demonstrate the problems of their societies and the youth's vision to solve them in innovative technical ways," she said, "We are genuinely delighted because such events are more than a normal competition; they are like workshops that include innovative people where all are winners as they gain great experience by competing with entrepreneurs from the different countries participating in the competition."