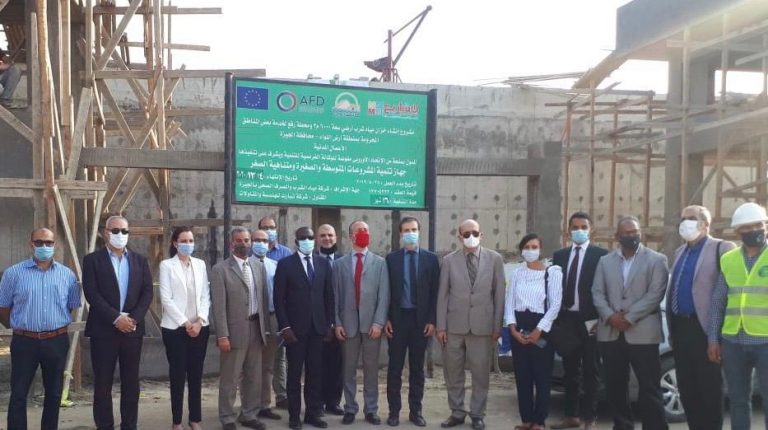 A high-level delegation encompassing representatives of the French National Assembly, the French Embassy in Egypt, and Agence Française du Dévélopment (AFD) Cairo Office have visited under development infrastructure project sites in Egypt.
The new projects are part of the Unplanned Areas Upgrading Program implemented by the Micro, Small, and Medium Enterprises Development Agency (MSMEDA) in Ard El Lewa area in Giza.
The delegation was accompanied by a group of MSMEDA officials presided by Medhat Massoud, Head of MSMEDA Central Sector for Human and Community Development. The delegation inspected the site of the Potable Water Tank in Ard El Lewa which is established jointly by MSMEDA, Giza governorate, and engaged parties.
During the visit, Massoud gave a presentation about the water tank and said it would meet the daily needs of the inhabitants of the area from potable water. He explained that MSMEDA has started to implement the tank according to a study carried out by a consultancy office and following consultations with the inhabitants made during a number of community meetings with them. Agreement was then made to put in place a group of sewage, potable water networks, and a ground tank at a capacity of 6,000 cbm alongside a pressure line from the ground tank.
Massoud stated that MSMEDA is carrying out the water tank jointly with Giza governorate and the Holding Company for Water and Wastewater (HCWW) in Giza. He added that the water tank is planned to operate by next month.
MSMEDA Deputy Executive Director Tarek Shash said that Unplanned Areas Upgrading and Employment Enhancing Program in Cairo and Giza is one of the prominent programmes MSMEDA implements in cooperation with AFD to provide an appropriate infrastructure within the neediest areas.
The objective of this programme is to improve the lives of inhabitants and likewise create a safe environment favourable to the development of small enterprises that could generate stable jobs for the inhabitants of these areas.
Shash reiterated that these projects create tens of thousands of jobs for casual labour during implementation.
"They adopt labour-intensive methods and hire unskilled and semi-skilled workers in carrying out activities instead of using machines and equipment, a technique that strikingly contributes to the generation of thousands of employment opportunities. More importantly, MSMEDA's successful implementation of these projects in cooperation with the State's organs would greatly encouragedonor agencies to inject more finance into this kind of projects that are highly beneficial to the inhabitants and help them improve their quality of life," MSMEDA Deputy Executive Director said.
Meanwhile, the French delegation has described MSMEDA's efforts on coordinating among partners, mainly, Giza governorate, and HCWW as commendable, especially with regard to the continuation of project implementation despite the COVID-19 crisis to cater for the needs of the inhabitants.
Worth to mention, the Water Tank Project in Ard El Lewa is being established under the Unplanned Areas Upgrading and Employment Enhancing Program that is financed by the EU with a grant delegated to AFD. Under this Program, MSMEDA has provided EGP 110 million to establish development projects in Ard El Lewa area.