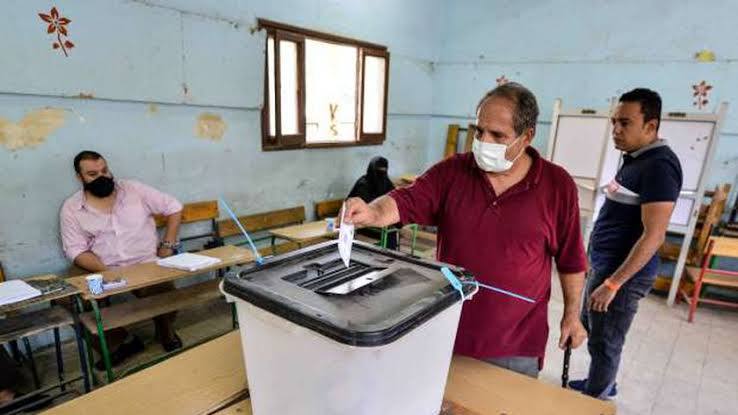 Voting has continued to run smoothly on the final day of the second phase of House of Representatives elections, according to the National Election Authority (NEA).
NEA Head Lashin Ibrahim said that the authority communicates constantly with judicial authorities in the 13 governorates overseeing the second phase of voting, to ensure an orderly process.
Voting reopened on Sunday in several Egyptian governorates for the second phase of the House of Representatives elections, with long queues and high turnout noticed outside dozens of polling stations.
Polling stations in the Cairo district of Asmarat witnessed a high turnout by women and men, while most polling stations in New Cairo saw a high turnout particularly among women.
The second stage of parliamentary elections covers 13 governorates, namely: Cairo; Qaliubiya; Daqahleya; Menoufiya; Gharbeya; Kafr El-Sheikh; Sharqeya; Damietta; Port Said; Ismailia; Suez; North Sinai and South Sinai.
All polling stations that were receiving voters opened their doors at 9 am, with voters adhering to precautionary measures against the novel coronavirus (COVID-19), including wearing face masks.
Several high-level officials voted during the second day of the elections' second phase, including Minister of Manpower Mohamed Saafan, Minister of Tourism and Antiquities, Khaled Al-Anani, and Minister of Health and Population Hala Zayed.
On Saturday, the NEA said that the first day of voting saw good voter turnout, with the voting process running smoothly.
The authority said that the eligible voters for the second phase would cast their ballots in 9,468 polling stations distributed among 72 electoral constituencies, and supervised by 12,000 judges.
The results for the second phase will be announced on 15 November, with the run-off elections for the second phase to be conducted abroad from 5 to 7 December and locally on 7 and 8 December.
Earlier, the NEA announced the results of the first phase of the elections, with the electoral list led by the pro-government Mostaqbal Watan Party sweeping the majority of votes.
The first phase of the election was held for Egyptian expats abroad from 21 to 23 October and locally from 24 to 25 October. The run-off election of the first phase will be held abroad from 21 to 23 November and locally on 23 and 24 November.