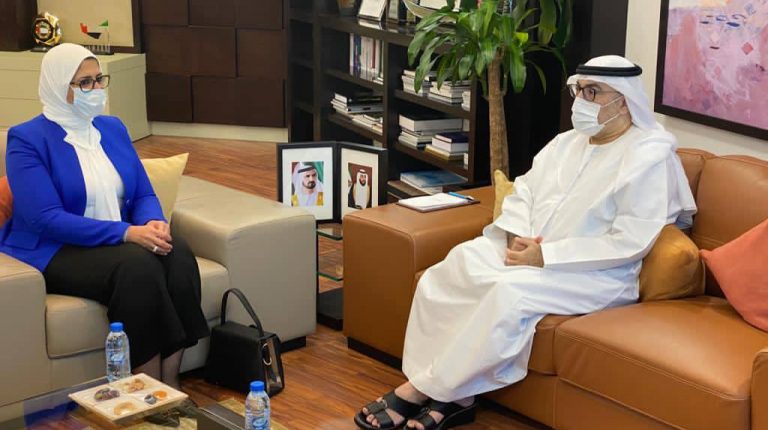 Egypt's Minister of Health Hala Zayed met, on Thursday, the UAE Minister of Health and Prevention
Abdul Rahman Bin Mohammed Al Owais during her official visit to the Gulf state, according to a ministry's statement.
Zayed and Al Owais discussed the novel coronavirus (COVID19) vaccine supply plan to Egypt, in the presence of the Egyptian Ambassador to the UAE, the Emirati Consul to Egypt, and Mohamed Hassani, the Assistant of Minister of Health for public Health initiatives affairs.
During the meeting, Zayed delivered a "Thank you message" from President Abdel Fattah Al-Sisi, Prime Minister Mostafa Madbouly, and the Egyptian people to the UAE for supplying the first shipment of vaccine, developed by China National Pharmaceutical Group (Sinopharm), with a support from the UAE G42 Healthcare company, the statement noted.
Both ministers also discussed efforts aiming to the curb the outbreak of the novel coronavirus, as Zayed reviewed Egypt's strategy in managing the crisis of the pandemic, the proactive steps that Egypt has taken to limit the spread of the virus and the precautionary measures that have contributed in achieving a balance between protecting people's health and developing the economy, the statement noted.
The two officials exchanged expertise and lessons learned during the past period as Zayed emphasised solidarity between the two countries in the fight against the pandemic.
They also touched upon the results of clinical research that have been carried out on COVID-19 vaccines and the preparations for providing the required quantities of vaccines.
Last week, Egypt received its first shipment of Sinopharm vaccine. The shipment arrived at Cairo Airport from the UAE.
The vaccine will be free of charge in Egypt and the government said it will prioritize vaccinating the medical staff in isolation hospitals, people with chronic diseases, and the elderly.