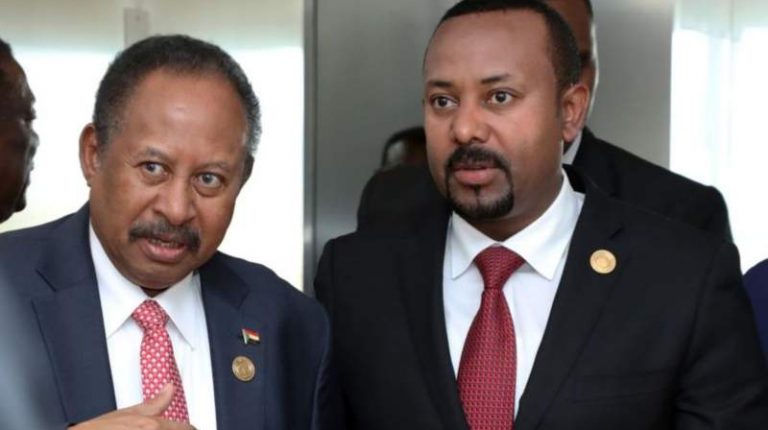 Sudan and Ethiopia will hold negotiations next week regarding the recent tension on their shared border, according to a statement from Sudanese Prime Minister Abdalla Hamdok on Sunday.
This comes days after Sudanese soldiers were ambushed and killed by Ethiopian troops along the shared border.
Days earlier, Sudanese troops were also ambushed inside the Sudanese territory of Abu Tuwair, east of Gedaref State. The Sudanese army accused Ethiopian militias of carrying out the attack, which resulted in the death of 3 soldiers and an officer, and 27 others wounded.
The Ethiopian and Sudanese leaders met earlier on the sidelines of the Intergovernmental Authority on Development (IGAD) summit in Djibouti.
The Sudanese Prime Minister's office said on Twitter, "[Hamdok] received Ethiopian Prime Minister Abiy Ahmed at his residence in Djibouti."
"The meeting discussed bilateral relations between the two countries and the situation in the region," Sudan said, "The meeting touched on the Supreme Borders Committee meeting between the two countries scheduled for this week," according to Reuters.
It is reported that the last meeting on border demarcation between Sudan and Ethiopia was held in May 2020 in Addis Ababa. A new meeting was scheduled to take place a month later, but was canceled. The rainy season made it more difficult to establish border points between the two countries.
The current border demarcation agreement dates back to May 1902 between Britain and Ethiopia, but there are still gaps in some points which regularly causes accidents with Ethiopian farmers who come to work on lands that Sudan asserts are within its borders. Sudan and Ethiopia share a 1,600-kilometre-long border.