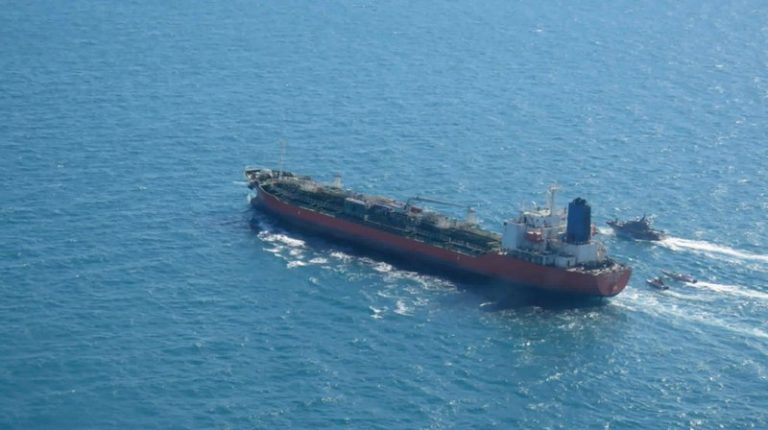 South Korea's foreign ministry said Tuesday that it will dispatch a delegation to Iran for the early release of a seized South Korean oil tanker and its sailors.
Foreign Ministry spokesman Choi Young-sam told a press briefing that a delegation, led by the director-general in charge of the relevant region, will be sent to Iran at an earliest possible date to resolve the issue through negotiations with the Iranian side.
The South Korean oil tanker, named MT Hankuk Chemi, was seized on Monday by Iran's military in the Strait of Hormuz due to the alleged chemical pollution. It was sailing from Saudi Arabia to the United Arab Emirates at that time.
Aboard the vessel were five South Koreans, 11 Myanmar nationals, two Indonesians and two Vietnamese.
Separately, South Korea's First Vice Foreign Minister Choi Jong-kun was expected to discuss the seizure during his previously scheduled three-day visit to Tehran from Sunday.
The spokesman said Choi's trip had been arranged prior to the seizure incident to discuss issues of mutual concern for South Korea and Iran, adding that the seizure issue would be naturally discussed during Choi's visit.
On the other hand, Iran's Government spokesman Ali Rabiee said Tuesday that South Korea has taken as "hostage" over $7bn of Iranian assets.
"We are not hostage takers, if anyone is a hostage taker, it is the South Korean government" which has kept Iran's assets under "vain pretexts," Rabiee said during his press conference.
Rabiei's comments came a day after Iran seized a South Korean-flagged tanker in the Strait of Hormuz for "environmental concerns."
Iran's funds from oil exports are frozen in the South Korean banks amid US pressures over sanctioning Iran.