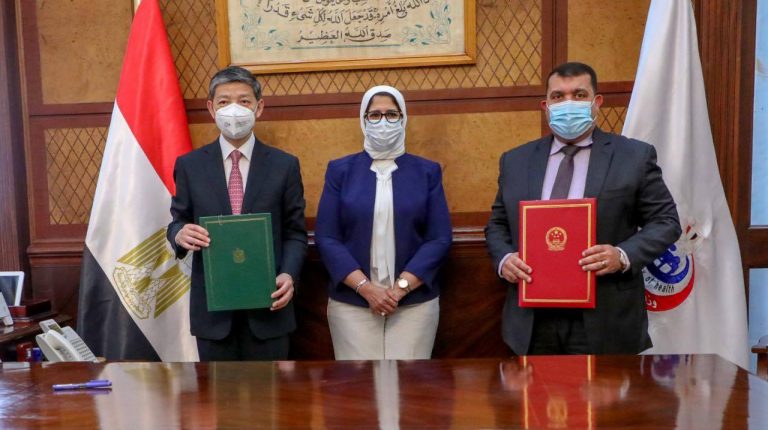 Egypt's Minister of Health and Population Hala Zayed has announced that Egypt will sign an agreement with the Chinese government for the former to manufacture of the novel coronavirus (COVID-19) vaccine.
Speaking at a press conference on Monday, the minister said that the agreement will be signed by the end of March. She also said that her ministry has worked in the last period to negotiate with China to participate in manufacturing the COVID-19 vaccine for Egypt and other African countries.
Zayed said that the Ministry of Health and Population had called on the World Health Organization (WHO) to inspect the production lines run by local vaccine and serum producer, Vacera.
The ministry said that the WHO had already sent international experts, and the report was very positive. The minister also said that Egypt has the capacity to manufacture COVID-19 vaccines.
She added that Egypt is cooperating with the Chinese government to become a regional source for manufacturing and distributing the vaccine in Africa.
Zayed added that the Ministry of Health and Population had agreed with the Chinese Ambassador to Egypt, Liao Liqiang, to supply new shipments of the COVID-19 vaccine produced by the Chinese company Sinopharm.
The minister confirmed that the new Chinese shipments will enable Egypt to cover the local needs for vaccines. She explained that the Chinese vaccine was approved in Egypt after two clinical trials were conducted affirming that there are no unexpected side effects from taking the Chinese vaccine.
Zayed pointed out that Egypt is able to provide the COVID-19 vaccine within one week to 250,000 elderly citizens, as well as those who suffer from chronic diseases.
The minister also asserted that Egypt will provide the coronavirus vaccine to pilgrims who will perform the major Islamic pilgrimage, the Hajj, before their travelling to Saudi Arabia.
She indicated that priority will be given to provide vaccines for workers in three sectors as soon as possible, namely those working in the tourism sector, as well as the banking and industry sectors.
Meanwhile, Ambassador Liqiang said that the Sinopharm vaccine has proven its effectiveness without any side effects. He added that Egyptian-Chinese relations are based on high levels of understanding, with both countries enjoying mutual support in crises.
The Ambassador also said that China is a reliable partner for Egypt, and that the partnership between Egypt and China regarding the COVID-19 vaccines is a step towards building a common base between the two countries.