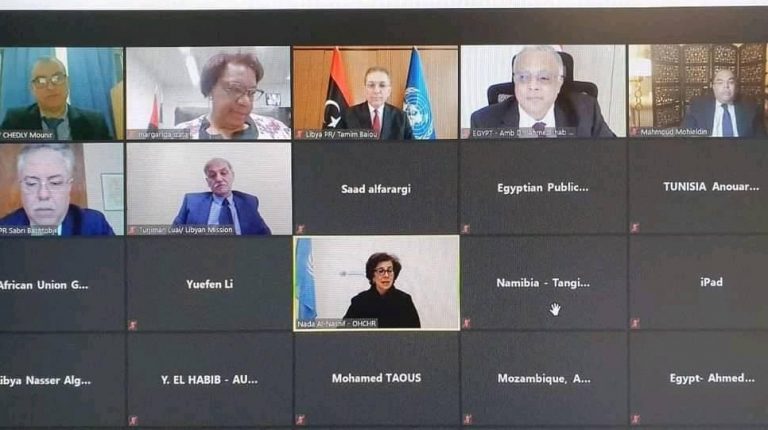 Egypt's permanent mission to the United Nations (UN) in Geneva has successfully pushed the adoption of a resolution at the UN's Human Rights Council (UNHRC) on the negative impact of unrecovered looted funds on human rights.
The resolution's adoption was approved, by a large majority, at the UNHRC's 46th session, and represents a joint Egyptian-Tunisian-Libyan initiative supported by the African and Arab groups.
It aims to highlight the difficulties of locating and recovering looted funds from abroad, the lack of cooperation from the relevant authorities in the different countries, and the absence of political will in this regard.
The resolution called upon states that have safe havens for looted funds to return them unconditionally, in accordance with the relevant international conventions. They should also provide technical support to developing countries in this regard, the resolution adds.
Ambassador Ahmed Ihab Gamal El-Din, Egypt's permanent representative in Geneva, said that the flow of funds from illegal sources deprives countries of the resources needed to implement human rights. This includes economic, social, and cultural rights, especially the right to development.
It threatens the stability and sustainable development of countries and undermines the values of democracy and the rule of law, he said.
Gamal El-Din added that these funds are needed more urgently than ever before, for the development and implementation of all human rights, especially in countries in transition.
Egypt's Permanent Mission in Geneva organised an event on the side lines of the UNHRC's current session, in cooperation with the Tunisian and Libyan missions, as well as the Office of the High Commissioner for Human Rights. The event aimed to shed light on the negative repercussions of this phenomenon.
The meeting noted that the phenomenon of smuggling money leads to the loss of huge amounts of money in developing countries. This, in turn, limits countries' capabilities to mobilise domestic resources for sustainable development.
The event represented an opportunity to highlight Egypt's success in implementing the first national anti-corruption strategy 2014-2018, which the UN considered one of the best practices in preventing and combating corruption.
The strategy emphasised the principles of accountability, and sent a strong message that fighting corruption is a shared responsibility of all state authorities and society. It highlighted ongoing efforts to implement the second national anti-corruption strategy, covering the years 2019 to 2022.
The participants stressed the importance of recovering stolen funds, especially in light of the negative repercussions of the novel coronavirus (COVID-19) pandemic, on the economies of developing countries.
They highlighted the need for the UNHRC to continue to address the negative impact of looted money flows on human rights. The council would also need to review a number of indicators on the extent of the impact of illicit money flows on African economies in particular.