Latest in Day:

June 18, 2021

Highlight
Latest in Day:

June 18, 2021
---
Both sides discuss latest local, regional security developments, ways to strengthen bilateral relations
---
Air Canada delegation meets Egyptian business community leaders
---
Minister Al-Mashat welcomed Petersen, stressing the vital role played by the United Nations and its affiliated agencies and programmes in supporting Egypt's priorities to achieve sustainable development, through the strategic framework of the 2018-2022 partnership between Egypt and the United Nations.
---
Programme seeks to enhance local power sector's financial sustainability, governance, and operations
---
Forum discusses Egypt's new Advance Cargo Information, e-invoicing systems
---
The SME Academy is designed to invest in selected high potential employees, train and qualify eligible calibers to transform the small- and medium-sized enterprises (SMEs) into long-term sustainable businesses that support the Bank in achieving its SME goals.
---
Egypt provides nearly 3,200 military, police officers to UN peacekeeping, says Panova
---
---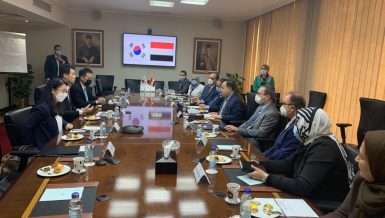 Ambassador Hong expressed thanks to Minister Maait for his participation at the forum organized by the Korean Embassy in Cairo on the recent government's customs and tax reform measures, despite his busy schedule. He added that the Minister's presence and open discussions he had with Korean investors reflects the keenness of the Egyptian government to support investors and gives assurances to Korean companies operating in Egypt.
---
End of Section