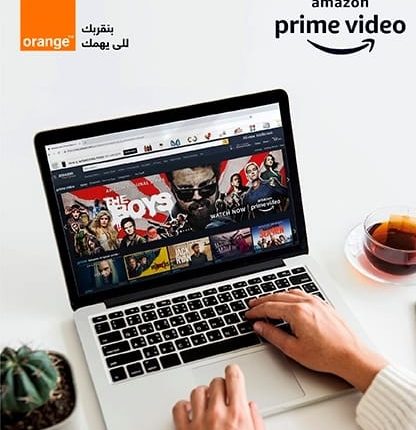 Orange Egypt is constantly keen to provide its customers with innovative and distinctive services believing in the power of Digital Content & transformation & how it's shaping the future; hence it has teamed up with Amazon to offer Orange pre-paid and post-paid customers 6 months of Amazon Prime Video, courtesy of Orange.
Amazon Prime Video offers Orange customers a selection they won't find anywhere else, all available to watch on practically any device offering thousands of movies, TV shows and exclusive Amazon Originals such as Goliath, Bosch, The Marvelous Mrs. Maisel, The Boys, Making the Cut and other exclusive popular titles. Customers can watch at home or on the go with the Prime Video app on your compatible TV, smartphone, tablet, and more.
On this occasion, Ahmed El-Abd, Chief Commercial Officer at Orange Egypt, expressed his pride in Orange's achievement to provide Amazon Prime Video service for the first time in Egypt. He stressed that Orange spares no effort to provide outstanding services to its customers in Egypt.
He added, "Orange is always keen to create new and different ways to communicate with its customers by collaborating with international companies specialized in digital entertainment content, such as Amazon Prime Video. We hope to enable our customers to access comprehensive and varied entertainment content that meets all tastes and enriches their daily experience, while ensuring a smooth and unique experience. Our launch of Amazon Prime Video offer is a strong addition to the digital content that we provide through working with major digital entertainment content companies. These offers allow us to meet the needs of a large segment of our customers as well as add more value to our offers and packages and can enrich our customers' daily experience."
To benefit from this offer, the sign-up process is simple and can be facilitated by downloading MyOrange or click https://orangeeg-amazonprimevideo.com. Once activated, customers can download the Amazon Prime Video app to start enjoying their subscription. Existing customers of both Amazon and Souq.com can sign-in using their existing credentials. After the promotional period, Orange customers will be charged monthly to the service for a monthly fee of EGP 75 to be deducted from the balance of prepaid or postpaid customers' balance. This enables customers for the first time in Egypt, to pay for Amazon Prime Video subscription in local currency.