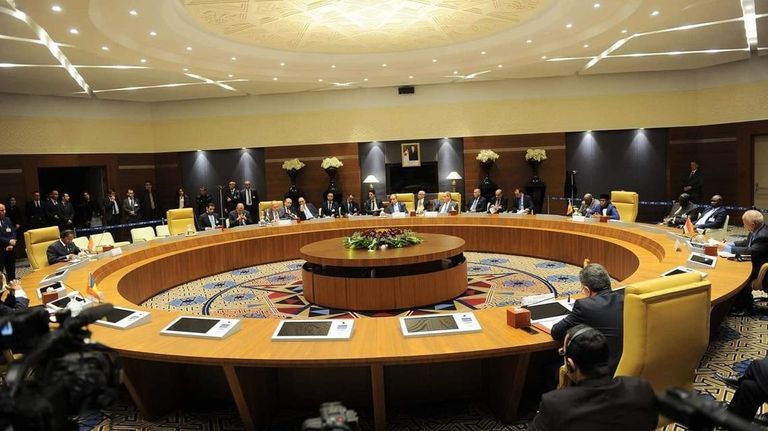 Algeria will host, on Monday, a ministerial meeting of the group of neighbouring countries of Libya, to find a political solution to the crisis in the North African country.
Egypt, Tunisia, Libya, Sudan, Chad, and Niger affirmed their participation, and representatives of the Secretary-General of the United Nations and the African Union (AU) were also expected to attend the meeting.
Algerian President Abdelmadjid Tebboune announced earlier that his country was "at the disposal" of Libya and was ready to help it solve its neighbour's problems.
Tebboune stated that Algeria considers, "The final solution to the crisis in sisterly Libya is elections that give more legitimacy to the National Council and to the President."
The Algerian president suggested organizing "dual parliamentary and presidential elections at the same time," reiterating Algeria's readiness to help the Libyans "to deliver the voice of Libya anywhere."
On 22 January, Algeria hosted the largest meeting of the neighbouring countries of Libya, in which seven ministers from the region surrounding Libya, as well as Germany, participated. The meeting concluded with an agreement on five basic principles that support the outcomes of the Berlin Conference, the most prominent of which is the affirmation that there is no solution to the Libyan crisis except in a political manner, and that it is among the Libyans alone.
The meeting demanded support for the territorial integrity of Libya and respect for its sovereignty as one unified state, and the involvement of neighbouring countries in international efforts to resolve the crisis.
It also stressed the importance of involving the AU, considering Libya as a member of it, and rejecting foreign interference, as well as rejecting the flow of arms to Libya.
The meeting called for reaching the legitimacy of the Libyan authorities, with the approval of "all Libyans."
The foreign ministers neighbouring Libya also stressed the need for armed militias to leave Libyan territory and to ban the supply of arms to Libya, and considered, "The matter is related to an international decision and not only to the desire of neighbouring countries."
The countries neighbouring Libya, in their previous meeting in Algeria, also affirmed their rejection of the presence of any illegal forces in Libya, stressing that "these interventions have complicated the crisis in this Arab country."
Monday's meeting will be held in conjunction with the complications and disagreements on the Libyan arena, especially those related to the constitutional rule for holding the elections scheduled for 24 December, as a result of a Muslim Brotherhood scheme to obstruct the elections.