Latest in Egypt Highlight
Latest in Egypt
---
CAIRO: Amid the gloom of the global economic crisis, Egyptian officials and industry insiders have repeatedly proclaimed the health of both the financial industry and the real estate sector. Yasseen Mansour, CEO of Palm Hills Development (PHD), echoes these sentiments, describing real estate in particular as a "safe haven even during recessionary periods or in …
---
CAIRO: An Egyptian cleric who says he was kidnapped by the CIA in Italy and flown to Egypt for interrogation is considering a political career in his home country thanks to the fame the case has brought him. Hassan Mustafa Osama Nasr, also known as Abu Omar, announced his political intentions in a wide-ranging interview …
---
CAIRO: Investor interest in housing stocks helped up small and mid-cap Egyptian shares on Tuesday amid expectations firms in the sector will benefit from increasing land prices, traders said. The benchmark Hermes index fell because seasonal holidays in western markets meant many foreign institutional investors, who traditionally prefer big-cap stocks,were absent from the market, the …
---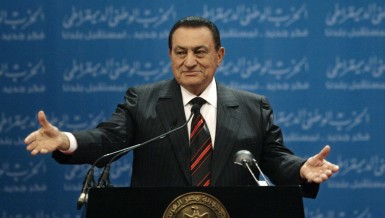 President Hosni Mubarak told his parliament yesterday that he plans to continue with democratic reforms, and hopes to work with both ruling party members and the opposition in the future.
---
Appealing for the sympathy of the public and attention of the officials, Ayman Nour, leader of El-Ghad (Tomorrow) Party, continues his hunger strike for an eighth day – lying in a hospital room in Tora Mazraa Prison – protesting his temporary detention amid warnings of his appointed physicians and appeals from his wife.
---
An Egyptian court extended the detention of liberal politician and former presidential candidate Ayman Nour on Saturday until today, when his trial on forgery charges resumes, Nour's lawyer said.
---
Activism in Egypt has never before reached the level it is currently enjoying.
---
---
End of Section