Latest in
---
40% of Egypt's area is eligible for urban development, the challenge is their distance to resources, says El-Gazzar
---
The ministry plans to offer new lands through Beit Al Watan project in New Cairo and New Mansoura
---
NUCA presents investment opportunities to developers through its website
---
Held under the patronage of the Prime Minister, Mostafa Madbouly, The Big 5 Construct Egypt is Egypt's largest construction event, providing a platform to foster industry best practices, business and investment opportunities in Egypt.
---
The roundtable will be held under the patronage of Minister of Housing, Utilities and Urban Communities Assem El Gazzar.
---
The ministry has built 3,120 social housing units in the city, besides other 3,600 units under construction, El Gazzar said in a Wednesday press statement.
---
Round-table to tackle boosting real estate investments in Egypt on 27 August
---
---
An Egyptian delegation arrived in Saudi Arabia to participate in the second edition of the Makkah Economic Forum which was launched on Saturday and is scheduled to last until Tuesday, a statement of the Saudi Arabian embassy said on Sunday. Egypt's Minister of Housing, Utilities, and Urban Communities, Assem El-Gazzar, and the Chairperson the Suez …
---
The Minister of Housing and Urban Communities, Assem El-Gazzar, announced that the 30 June Axis, which is one of the state's road network projects, will be inaugurated within a month, explaining that it will connect the governorates of Port Said, Ismailia, and Suez. He added that the axis will be completed to enable reaching the …
---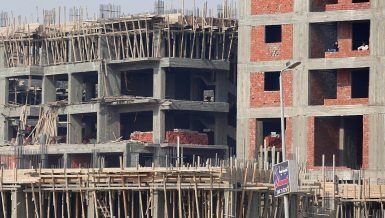 The Minister of Housing, Utilities and Urban Communities, Assem El Gazzar, and the Minister of Public Enterprise Sector, Hesham Tawfik, witnessed the signing of a cooperation protocol between the Metallurgical Holding Company, affiliated to the ministry of public enterprise sector, and the New Urban Communities Authority (NUCA), affiliated to the ministry of housing, in order …
---
Country suffering from gap between offered, required social housing units due to high population growth
---
The first roundtable in Egypt on non-residential real estate projects, including commercial, medical, and administrative, on 20 March, titled 'Think Commercial' at the Nile Ritz Carlton hotel, under the sponsorship of the Minister of Housing and Urban Communities, Assem El Gazzar. The roundtable discussion will be attended by the Deputy Minister of Housing for National …
---
The Minister of Housing, Utilities and Urban Communities, Assem El Gazzar, will participate in the fifth edition of the Builders of Egypt Forum on 21 April, under the title 'Exporting the Egyptian Contracting and Real Estate: A New Future for Investment'. The minister will present the state's plan to export real estate property, and promote …
---
---
Total of 709,000 low-income housing units are being implemented, says Assem El Gazzar
---
Assem El Gazzar was sworn in as the minister of housing on Wednesday as a successor to Prime Minister Mostafa Madbouly. El Gazzar is one of the closest aides to Madbouly, and they worked together in the General Organisation of Physical Planning (GOPP). El Gazzar was the deputy housing minister, and served as chairperson of …
---
End of Section