Latest in
---
The claims are related to his transfer from Brazilian club Santos to Spanish FC Barcelona at a summer transfer market in 2013.
---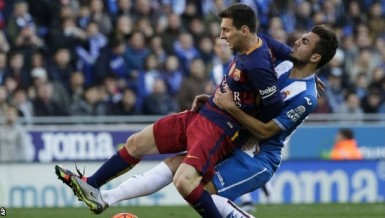 Barcelona boss Luis Enrique was angry at match officials during the Catalonian derby game between Barcelona against Espagnol (4-1) in the first leg in round 16 for Spanish cup Copa del Ray
---
Usain Bolt, Barcelona FC and Lewis Hamilton figured big in the highlights of 2015. On the negative side, the doping scandal that hit Russian athletics and the latest terror attacks in Paris also made the headlines.
---
Suarez leads Barcelona to victory, and Benzema at his worst
---
Promotional visits will occur over the next three months
---
Weekend saw national cup finals in Germany, Spain, France and England
---
---
"The Egyptian customers have been always very pro-MANGO and we do not want to disappoint them," says founder
---
The Barcelona circuit hosted the second round of the Formula 1 winter tests with the participation of nine teams. On the first day, Pastor Maldonado won the race for Lotus, with 69 laps and the best time for lap at 01:25.011, beating Ferrari driver Kimi Räikkönen, who came in second place with a 0.1 second …
---
The team reaped its fourth title this year, the first time in its history.
---
The financial integrity laws came into force in 2011 through the beginning of the 2014 season, the goal of which is for club expenditures to reach a point where profits and losses are equal.
---
Champions League semi-final draw sets up possibility of all Spanish or all German final
---
Barcelona and Bayern Munich both progress to Champions League semi-finals
---
---
"We call on all Muslim, Arab and Palestinian media not to broadcast this game if Shalit attends," Hamas spokesman said
---
End of Section