Latest in
---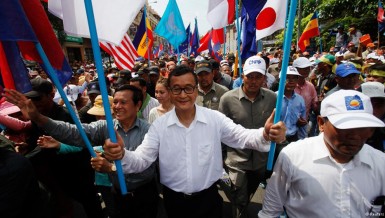 A criminal court has fined the country's exiled opposition leader for claiming the prime minister's Facebook page had been inflated by fake "likes."
---
In a bid to attract more Chinese tourists into the country, Cambodia is accepting payments in yuan. But many Cambodians oppose the measure, saying the government should promote the use of its own currency instead.
---
The Cambodian government is accused by opposition and rights groups of increasingly cracking down on dissent, prompting concerns about the state of human rights in the country. Abby Seiff reports from Phnom Penh.
---
Cambodia has one of the world's highest deforestation rates. But a group of Buddhist monks are stepping up efforts to save forests by publicly revealing wrongdoings and mobilizing local villagers. Ate Hoekstra reports.
---
---
The decision to release the First Lady of the Khmer Rouge, Ieng Thirith, on the grounds of her diminishing mental faculties angers countless Cambodians affected by the Red Purge.
---
Asian 3.5 billion people states to form free trade zone
---
End of Section