Latest in Tag:

Citibank

Highlight
Latest in Tag:

Citibank
---
Bank expects SPACs to make purchases, seeking opportunities in emerging markets
---
Antonios will assume overall responsibility for driving Citi's business in the region.
---
Egypt's sovereign wealth fund to name the winning financial advisor within days
---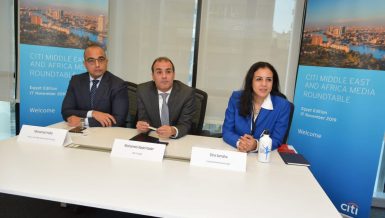 The bank is currently focusing on expanding its portfolio of local companies on a selective basis: Mohamed Abdel Kader
---
First reform steps was removal of energy subsidies, significant move in right direction, says Abdel-Khader
---
Five international banks were chosen to arrange Egypt's dollar-denominated eurobond issuance on 5 January 2018. The institutions are HSBC, JP Morgan, Morgan Stanley, Citibank and the National Bank of Abu Dhabi (NBAD), Finance Minister Amr El-Garhy announced on Thursday. El-Garhy said the $4bn eurobond issuance will be at the end of January 2018, which is …
---
Jim Cowles, CEO of Citibank in Europe, Middle East, and Africa (EMEA), expressed his optimism towards the growth of the economy in Egypt and the opportunities it offers for financial transactions.
---
---
Banking sector accounts for 77% of total outstanding balances of bills
---
Citibank remains committed to the country and has a continuous dialogue with the Ministry of Finance, says Cowles
---
The Central Bank of Egypt (CBE) approved, on Tuesday, the Commercial International Bank's (CIB) acquisition of Citibank Egypt's private retail banking portfolio.
---
Citibank's individual clients amount to 600,000, with funding portfolio of EGP 1.7bn
---
The bank is preparing new customer services which include the launch of two new premium cards products, Arif Raza says
---
Economy remains weak with consumption under pressure and investment affected, the report stated
---
---
End of Section