Latest in Tag:

colours

Highlight
Latest in Tag:

colours
---
From ketchup to vegetables, Hany creates mouth-watering art pieces
---
We all know what a brand is and what it means to brand a product, company, new business, etc. But is branding a news channel the same? What are the components of news branding? Do we actually need to brand a news channel? And how do we do that?
---
Up Fuse is an innovative local label that opens the door to a much-needed argument regarding ethical fashion and environmentally friendly garments
---
"They are little pieces of art that break my heart to part with, but it makes me happy knowing that the person wearing them will smile every time they look down at their feet," says designer
---
Artist Nada Baraka has her first solo-exhibition "Fractals", where she uses abstract work to explore perceptions of the human body
---
Exhibition features paintings about identity from various perspectives
---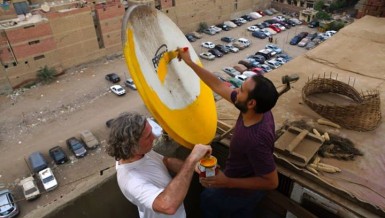 American writer and artist transforms "depressing" rusty dishes into brightly-coloured ones
---
---
Sunrays filter through rows of glass Ramadan lanterns, spraying colour over the narrow alley in Al-Darb Al-Ahmar. People view the displayed lanterns with admiration as they walk by, but only a few negotiations with shop owners end in a sale. Using Lanterns in Ramadan celebrations is a tradition that goes back to the Fatimid …
---
The hijab fashion in Egypt has been changing rapidly over the last ten years. Although the Spanish style veil has emerged five years ago, a newer and faster "Spanish" is getting simpler and looser now. Some argue that the traditional hijab, despite the new florescent colours, will soon fade out in Egypt.
---
Using the distinctive patterns used in the traditional khaima, tent, the material is available during Ramadan in a variety of colours, from the classic red with blue and green, to different shades of one single colour.
---
Military aircrafts drew different colourful shapes in the sky, sending messages to the protesting public
---
Fashion designer aims for business success and being an inspiration
---
Life takes a different shape in Tarek Montasser's paintings
---
---
I decided on a few designs and worked closely with a sculptor to produce silicon moulds that allowed me to create different and detailed candles. I tried a variety of colours and not long after that the brightly coloured Buddha candles came out.
---
End of Section