Latest in Tag:

comedy

Highlight
Latest in Tag:

comedy
---
Mahmoud Gamal, the play's 30-year-old writer, also acts in it. He sat with Daily News Egypt to talk about the details of the play and the background of its scenes.
---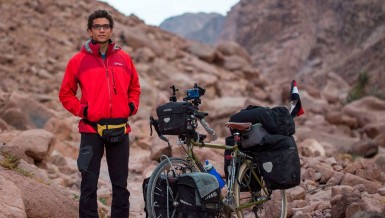 A play that many have watched over and over
---
I have a better shot of becoming first Middle Eastern President of US than getting The Daily Show, he says on Reddit
---
New play indirectly addresses controversial issue of US aid to Egypt.
---
Video-sharing site YouTube is hosting its first 'Comedy Week' in the MENA region as a part of a global campaign to celebrate comedy
---
International exhibition basketball team entertains Cairo families with their dunks, trick shots and jokes
---
Exhibition basketball team brings their show to Cairo for first time in 24 years
---
---
Egyptian funny man looks forward to compete and work on his material
---
Comedy Break Show oncouraging funny talents to post a three minute video of their best work on their website and offering great prizes to the winners
---
With hilarious, well-crafted songs that expertly incorporate everything from politics to moustaches and aubergines, one would think the dynamic duo spent hours meticulously writing and rewriting every word to ensure the lyrics were perfect. Not so. True to their name, the band simply gets high on body fat and writes.
---
End of Section