Latest in Tag:

criticism

Highlight
Latest in Tag:

criticism
---
Every project completed by the army or state has been met with criticism for its monetary worth and effectiveness for the country's economy
---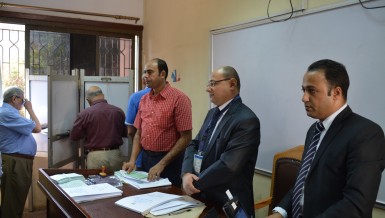 Shoukry's visit was depicted as treason to Palestinians, but also as hope for the improvement of Palestinian conditions
---
Daily News Egypt reviews decisions and circumstances which led to former president Mohamed Morsi losing popularity in one year
---
Foreign Minister's assistant expresses desire to Congress delegation to enhance relations
---
The writer says he will no longer publish with private newspaper Al-Masry Al-Youm
---
An NGO and a law centre had both filed a lawsuit challenging the constitutionality of the infamous law
---
The five Guantanamo Bay detainees were in turn transferred to Qatar, where their movements and activities will be restricted, a US official said.
---
---
This comes after the sentencing ignited condemnation and criticism from domestic and international groups
---
Latest criticism of the sentencing of three activists has ignited condemnation and criticism
---
Activists submit notice for a protest against the law; movements say the law violates basic rights
---
Bassem Youssef, host of the satirical TV show "Al Bernameg" (The Program) faces investigation after a lawyer filed a complaint earlier this week, accusing him of insulting President Mohamed Morsy. The case against Youssef is the latest in a series targeting journalists and bloggers in recent months, threatening to undermine freedom of expression in the …
---
If you've been following my column these past few weeks you'll know that this is something that has been on my mind lately. Call it an existential crisis. Why do I do this? Do I know what I'm doing? Does it serve any purpose? How long before my belt breaks?
---
Inexperienced self-made millionaire runs in elections
---
---
The Egyptian Organisation for Human Rights (EOHR) condemned an attack on two Egyptian doctors working in Kuwait on Monday. According to the EOHR, the Egyptian government has failed to provide sufficient security for Egyptians working overseas by not properly investigating or seriously pursuing crimes against Egyptian migrant workers. The attack happened at Jahra Hospital, in …
---
End of Section