Latest in
---
Donald Trump's erratic campaign has Republicans running for Congress wringing their hands. But with three months and possibly many more unpredictable Trump outbursts to go, they are caught between a rock and hard place.
---
Meryl Streep is such a dedicated Democrat that she recently satirized Republican Donald Trump in a fat suit. Now she's shocked that her "Bridges of Madison County" co-star Clint Eastwood says he'll vote for Trump.
---
Clinton is the reason behind the problems affecting the Middle East and the world, says the republican presidential candidate
---
Donald Trump's economic policy has often been vague or vacillating, causing deep frowns among economists across the political spectrum. But will he change course as he positions himself for the presidential election?
---
The final Republican platform, released Monday, would pull the United States out of the international climate accord, open national forests for logging and declare coal a "clean energy resource."
---
Normally running mates have little effect on the presidential race. But little has been normal in a show-off featuring a bizarre figure like Donald Trump versus Hillary Clinton, the first female nominee of a major party.
---
Firing his campaign manager Corey Lewandowski won't solve the core issue of Donald Trump's presidential run, a US elections scholar tells DW. To get to the root of the problem, Trump simply needs to look in the mirror.
---
---
From her orange tinted face to extra hairpiece, Meryl Streep really fit the part. Slipping into the role of Donald Trump, the renowned actress sang a Cole Porter song – and went viral.
---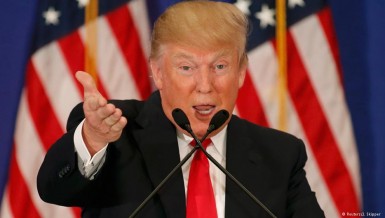 With Ted Cruz bowing out after a blistering defeat in Indiana, Donald Trump will be the Republican Party's presidential candidate. That's hard to swallow, but it's good for both democracy in the US and the GOP.
---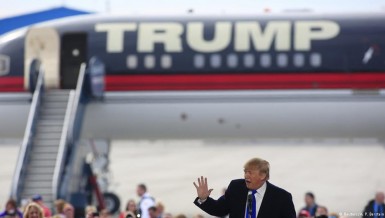 Where does Donald Trump borrow most of his money? Germany. The country's largest financial institution, Deutsche Bank, has floated him $2.5 billion in loans. But the bank-billionaire relationship is a fraught one.
---
Those who quickly dismissed Donald Trump's bid for the presidency are wrong. As his nomination as the Republican candidate for the presidency is becoming increasingly possible, it is worth analysing his announcement as a candidate, since it offers an insight into the main tenets on which his presidency will be based. Rather than being a …
---
Donald Trump is smashing red lines at the rate of knots, yet his popularity with Republican voters is soaring. Most polls place him way ahead with 35% nationwide; 19% higher than his closest rival. The more vulgar and offensive he is, the more the voters love him. He is successfully exploiting people's fears of 'the …
---
---
End of Section