Latest in
---
Galal said that a portfolio of nearly EGP 100m has already been securitised, with the remaining EGP 50m debt portfolio to be securitised soon.
---
Kamar served as the deputy chairperson before Amr Kamal, who just recently resigned from his post, nominated him to take the lead. 
---
Protocol to finance microenterprises, private education, urban development, contracting, health care services, renewable energy
---
We assumed office in October 2017, have done our best to put bank on right track, says Gadallah
---
Large real estate projects best option for government to bring about rapid development, solve problem of unemployment, says vice chairperson of Egyptian Arab Land Bank
---
State continues to import most production components, many goods, case which may not change much in 2018
---
We have managed to attract new deposits worth over EGP 1.2bn while negotiating new loans worth over EGP 2bn in food, real estate development, petroleum, grain storage sectors, says Kamal
---
---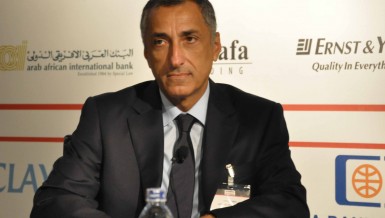 CBE governor made history with bold decisions: chairperson of the Egyptian Arab Land Bank
---
The board holds its first meeting after restructuring it under the chairmanship of Amr Kamal, pledges to restore the bank to its banking and historical position, and places it in the ranks of major banks internally and externally
---
Most challenges associated with threat of IPOs coverage, whether due to small size after pound's flotation or companies' profitability margins decline as a result of increased costs
---
The bank plans to transfer EGP 5bn in assets to a real estate subsidiary
---
115 other industries are linked to sector, it is the locomotive of economy, says El-Sharqawi
---
Egypt needs highly efficient people who are able to make bold and fast decisions, says Al-Sharqawi
---
---
Bank plans to establish company with an initial capital of EGP 5m
---
Return rates on government debt tools have been steadily increasing since former president Mohamed Morsi's constitutional declaration on 22 November 2012, a fact which has been compounded by repeated credit downgrades seen since the outbreak of the January 25th revolution by international rating agencies.
---
End of Section