Latest in
---
The civil society, along with Egyptian expatriates, have volunteered to join nationwide efforts to fight the pandemic.
---
Every EGP 1 injected into The Sovereign Fund of Egypt brings 10-fold from investors
---
Moreover, the remittances of Egyptian expats in September hiked about $2.3bn, recording a month-over-month increase of 33.2%, equivalent to $581.2m, compared to about $1.8bn in August. It also recorded a year-over-year increase of 32.8% compared to September 2018, the CBE added.
---
Remittances of Egyptians working abroad are one of Egypt's most important foreign exchange resources.
---
The Minister of Immigration and Egyptian Expatriate Affairs Nabila Makram, said that president Abdel Fattah Al-Sisi created a positive image of the Egyptian state, regarding religious tolerance, and rights of Copts, explaining that her ministry seeks to connect with the second or third generations of Egyptian expats. Makram's statements came during Egypt's international technology innovation …
---
Increase of 5.7% in remittances compared to same period in 2017
---
Company expects to achieve total sales of EGP 12bn by end-2018, says co-CEO
---
---
1,150 units are offered to Egyptian expatriates in Madinaty, Al Rehab, and Dar Misr
---
Written notes proving IS affiliation and an explosive belt were found in the Egyptian's vehicle, says Kuwaiti interior ministry
---
The arrested IS-affiliated group was making plans for terrorist attacks in the kingdom, says Saudi interior ministry
---
Some expats criticise discrimination and dwindling rights, consider kafala system a form of slavery
---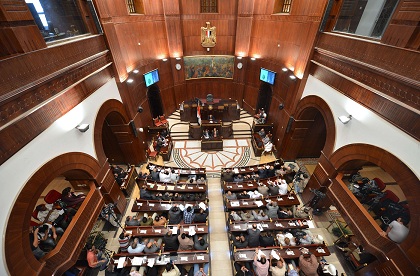 The Sinai Development Agency is considering a plan to sell land in the peninsula to Egyptians living and working abroad.
---
The programme will sell and distribute some 5,000 plots of land to Egyptian expats
---
---
Prominent figure in Muslim Brotherhood and Freedom and Justice Party, urged Egyptian expats to be good ambassadors to free and democratic Egypt
---
Registered voters living abroad will begin voting on referendum on Saturday
---
End of Section