Latest in Tag:

event

Highlight
Latest in Tag:

event
---
Show will take place at Nile Ritz Carlton on 19th, 20th January 2019
---
The event was endorsed by Al-Sisi and was attended by prominent Egyptian women
---
Cairo's first ready-t- wear event, between edge and glam
---
"We did not only tell our stories, we also shared our friends' stories, whether females or males," says one participant
---
Exactly one year ago, entrepreneur Mohamed Neamatalla shared one exceptional post online, asking all social media user to join his initiative. Neamatalla wanted to reach out and care for the marginalised visually impaired.
---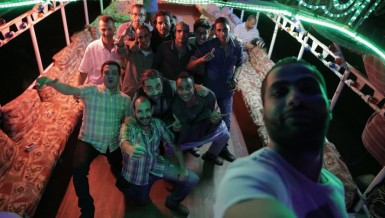 For the second year in a row, Egypt's Creative Industry Summit successfully brought together the country's most promising creative minds under one roof, the Greater Cairo Library, in an attempt to take local talents to the next level.
---
An NGO Fair, Book Fair, youth activities, youth play performance as well as musical performances by Masar Egbari and Wust ElBalad will take place between 12pm-9pm in the AlMedani Open Area of the Cairo Opera House.
---
---
The Facebook page that organised We Will Wear Dresses is gearing up for an event to encourage women to ride bicycles
---
Cairo Runners organise Cairo's first half marathon
---
Crop is a documentary entirely filmed inside the Al-Ahram building and features the journalist's commentary on past events
---
The prison dubbed 'Afghanistan's Guantanamo Bay' has gradually come under Afghan control over the past six months
---
End of Section