Latest in
---
Euro was up to 1.1764 US dollar from 1.1721 dollars in the previous session, and the British pound increased to 1.2961 dollars from 1.2943 US dollars
---
Euro rose to 1.0951 US dollars from 1.0870 US dollar in the previous session, and the British pound rose to 1.2599 dollars from 1.2450 US dollars in the previous session
---
Monetary easing from Fed could help EM central banks to cut rates
---
Deutsche Bank, Santander have repeatedly failed the test in the wake of the 2008 financial crisis. But Deutsche Bank USA's chief executive assured the public that its capital adequacy has "never been in doubt."
---
Ending its two-day policy meeting, The US Fed has refrained from hiking interest rates. It indicated that there were too many imponderables right now, prompting it to postpone a rate increase for the time being.
---
US industrial production has fallen sharply, a fresh report by the Federal Reserve has shown. The figures were released just hours before an expected announcement on whether the Fed would raise interest rates.
---
The Federal Reserve kept interest rates steady, while indicating that economic headwinds around the world means the central bank won't raise rates as high as it had originally planned.
---
---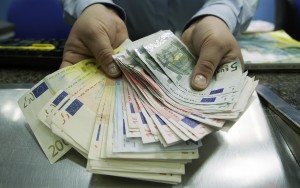 The US Federal Reserve raised the interest rates on the dollar with an expected percentage of 0.50% from the previous rate of 0.25%.
---
WTI hit a 15-month high of $107.45 in New York on Thursday and Brent reached $108.93.
---
"The sudden sharp decline in crude oil prices late last night in New York remains a mystery today," said CMC Markets analyst Michael Hewson
---
US Economy growing faster, yet remaining sluggish
---
---
Washington (AFP) — Federal Reserve Chairman Ben Bernanke admitted Tuesday that US economic data had been "disappointing" and that a future reduction in unemployment would likely prove "frustratingly slow." Dealing a blow to Barack Obama and others hopeful for an improvement in economic news ahead of November's presidential elections, Bernanke offered a gloomy assessment of …
---
By Martin Feldstein CAMBRIDGE: During the past four years, the United States Federal Reserve has added enormous liquidity to the US commercial banking system, and thus to the American economy. Many observers worry that this liquidity will lead in the future to a rapid increase in the volume of bank credit, causing a brisk rise …
---
End of Section