Latest in
---
By Ignacio Artaza I recently visited the village of Beir Anbar in the district of Koft, Qena governorate, and listened to the powerful statement this community is conveying to the rest of the country to put an end to the practice of Female Genital Mutilation (FGM). The whole village, from young schoolchildren to village elders, …
---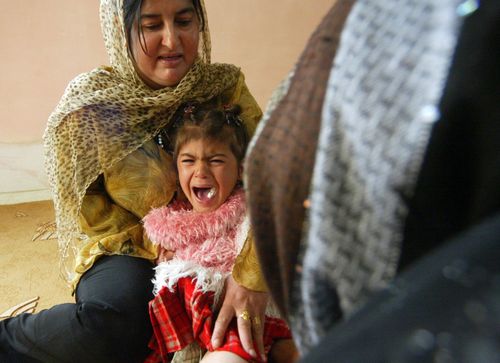 One in three women around the world has reported an experience of violence, 38% of all murder crimes against women were by their partners
---
By Dr César Chelala Female circumcision, also called female genital mutilation (FGM) is widely practiced in 29 countries in Africa and the Middle East. More than 125 million women have been subjected to different forms of genital mutilation across Africa and in areas of western and southern Asia, and 2 million women undergo the procedure annually. …
---
72% of FGM procedures in Egypt are conducted by medical professionals, despite World Health Organization opposition
---
The doctor in the Nile Delta city of Mansoura performed the dangerous procedure at a private clinic.
---
FGM prevalence in Egypt declining, reported to be 74% in 2008
---
Representatives from the health ministry and religious and child rights representatives attend
---
---
The Egyptian Coalition for Children's Rights described the practice as a crime against humanity
---
Soheir Mohamed Al- Batea, aged 13, died on Thursday following a severe drop in blood pressure after undergoing the operation, illegal since 2008.
---
The United States State Department highlighted a number of growing human rights concerns in Egypt in its annual report
---
On the International Day of Zero Tolerance to Female Genital Mutilation/Cutting, the Daily News Egypt brings you the traumatic experience of Om Hossam and her daughter.
---
CAIRO: Egypt's Minister of Family and Population, Moshira Khattab, along with a number of leading high profile female figures around the world, signed an international appeal for a United Nations resolution to ban female genital mutilation (FGM). "We, the undersigned human rights activists and citizens worldwide, joining together after years of struggle for female genital …
---
ROME: The UN children's agency on Thursday proposed a new approach for ending female genital mutilation, saying campaigns should work with communities instead of fighting local traditions. "One of the key factors that motivate parents' decision to have their girls cut — 'to do what is best for their daughters' — may also spur a …
---
---
ROME: The UN children's agency on Thursday proposed a new approach for ending female genital mutilation, saying campaigns should work with communities instead of fighting local traditions. "One of the key factors that motivate parents' decision to have their girls cut — 'to do what is best for their daughters' — may also spur a …
---
End of Section