Latest in
---
Egyptian Foreign Minister Sameh Shoukry visits Ethiopia, after concluding European tour in Rome
---
A group of anti-harassment movements announce they will be present in future Tahrir Square gatherings to try to prevent further assaults
---
The blaze followed a fight between local shop owners and street vendors
---
The Thailand ambassador explains what will happen next to the embassy's first secretary
---
Thai diplomat accused of assaulting an Egyptian woman at a hotel bar
---
Egyptian and Sudanese students fight after Sudanese student refuses to issue a public apology for attacking a female Egyptian student
---
A fight between FJP member's son and Sharqeya residents over comments on Facebook
---
---
Members of political groups will join Tahrir Bodyguard in attempts to make Tahrir Square harassment-free
---
Fierce machinegun battles broke out near Aleppo's ancient Umayyad Mosque, as troops fended off rebel attacks on their checkpoints, said a military source.
---
Fighting and shelling prevented president of Libya's national assembly from reaching the town
---
Why do they hate the media? And who are they?
---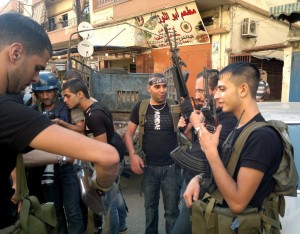 Sectarian violence erupts in Lebanon, wounding 33 people
---
The raids followed further attacks on security checkpoints on Tuesday night, this time near Al-Arish.
---
---
End of Section