Latest in Tag:

Foreign Minister Sameh Shoukry

Highlight
Latest in Tag:

Foreign Minister Sameh Shoukry
---
Shoukry asserted Egypt's unchangeable stance of support for the Palestinian right to self-determination and establishing an independent and sovereign state based on the 1967 borders. Under these terms, East Jerusalem would become the Palestinian capital.
---
Al-Sisi ordered the authorities to continue to maintain security and provide stability for citizens, whether in the fight against terrorism, extremism, or criminal security.
---
Shoukry said that his current visit to Cyprus is an important step for enhancing bilateral relations, added the spokesperson.
---
Shoukry met Afwerki, delivered message from Al-Sisi on enhancing cooperation
---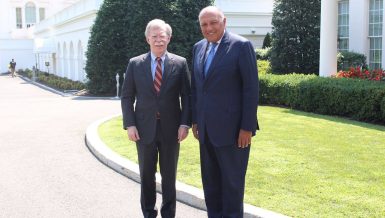 Egypt plays essential, pivotal role in maintaining security, stability in region, says Bolton
---
Egypt's choice is to remain a nation for diversity, pluralism, and peaceful coexistence, says Shoukry 
---
The US secretary of state reiterated his country's commitment towards Egypt's stability
---
---
Shoukry and Al-Khalifa discussed preparations for the ninth round of the joint Egyptian-Bahraini committee which will be held in Cairo on 16-17 May, according to a statement from the foreign ministry
---
The two met with the Chinese prime minister, Nigerian president and Sudanese vice president
---
Abbas discussed with Shoukry the latest developments in Palestine prior to the Arab foreign ministers' meeting
---
The Egyptian foreign minister discussed several regional issues with the EU security representative
---
Egypt expresses support for formation of national unity government
---
Shoukry recognises Egypt's role as UNSC non-permanent member, yet highlights the unequal role of veto power
---
---
Paolo Gentiloni's visit comes following Saturday's attack on Italian consulate
---
Foreign minister discussed possibility of membership with counterparts during UN Visit
---
End of Section