Latest in Tag:

Hesham Tawfik

Highlight
Latest in Tag:

Hesham Tawfik
---
The target project consists of establishing a five-star 250 room business hotel, in addition to halls and restaurants, a health club (spa) and a gym, among other facilities
---
Egypt will offer 22% to 25% of the shares in HHD in 1Q 2020, says Hesham Tawfik
---
Project's second phase to be completed in Q2 of 2020, says Egypt's Minister of Public Enterprise Sector
---
First cargo shipping from Sokhna Port to Uganda leaves on Tuesday
---
The Ministry Public Enterprises Sector is trying to revive El Nasr Automotive and has recently cooperated with the Ministry of Trade and Industry to reach an agreement with an international company to bring back the state-owned automobile company.
---
Tawfik opened the 'Gosour for International Trade in Eastern and Central Africa' conference in the presence of Minister of Trade and Industry, Amr Nassar, and Chairperson of the Arab Organization for Industrialization, Abdel-Moneim Al-Tara.
---
Tawfik said that the ministry plans to launch an integrated and sophisticated chain of transport and logistics services to support the foreign trade system and provide bridges to Africa to boost bilateral trade.
---
---
Nissan is negotiating with the ministry of trade and industry to establish a project in Ain Sokhna, says Tawfik
---
Revenues grow by 20.8% to EGP 102.5bn, exports increase by 48% to EGP 16.5bn
---
Ministry owns 250 untapped land plots with area of ​​19m meters, to be sold to reinvest, pay debts, support public treasury
---
I have agreed with minister of planning to put some of ministry's assets in Egypt's sovereign wealth fund, through two sub-funds dedicated for hotel management, real estate development
---
Two companies to offer new insurance premiums against electronic piracy, says EFSA's chairperson
---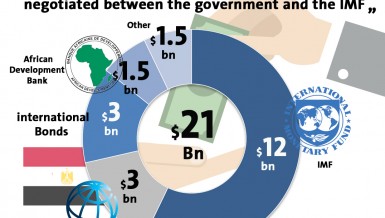 Agreement with Agriculture Ministry entails planting short-staple cotton to fulfil domestic market needs
---
---
Emerging markets crises will not affect planned IPOs, state to keep 40% ownership
---
End of Section