Latest in Tag:

Iceland

Highlight
Latest in Tag:

Iceland
---
Australia needs to defeat Peru, while Iceland looks for surprise victory over Croatia
---
What happens when a small country with its own currency has to navigate economically in a world dominated by huge countries with enormous banking systems and deep-pocketed financial speculators?It turns out that such countries are highly vulnerable to large, erratic swings in currency value – and those swings can cause serious economic damage. Iceland provides …
---
The soccer soft power contrast between Qatar and Iceland speaks volumes. A comparison of the strategies of both countries demonstrates that it takes more than money to leverage soccer to create political, geopolitical, and economic opportunity. Money and world soccer body FIFA's desire to take one of the world's foremost sporting events beyond Europe and …
---
There was a lot wrong with Euro 2016 but we should revel in the fact it became a story of the collective rather than individuals. DW's Jonathan Harding takes a look back at a dramatic if not awe-inspiring tournament.
---
France ended Iceland's fairytale run at Euro 2016 when they crushed the surprise quarterfinalists 5-2 in Paris. Antoine Griezmann sparkled for the hosts to help set up a last-four clash with world champions Germany.
---
France were once accused of showing a lack of respect for Iceland, their surprise opponents in Sunday's quarterfinal. Iceland's run to the last eight suggests that would be a fatal mistake for the hosts this time round.
---
The Icelandic national team have been the story of the tournament. 99.8% of Icelanders watched them beat England but that's not the only way in which the country is exceptional. Here are the stats behind their rise.
---
---
English football and failure have long walked hand in hand, and at Euro 2016 that was no different. Iceland, however, showed England exactly what they were missing – and it hurt.
---
The city of Nice will go down in Icelandic and English sporting history – for polar opposite reasons. In the final round of 16 match, minnows Iceland came from a goal down to humiliate England 2-1.
---
Seen as rank outsiders before the tournament, the team from the rugged North Atlantic island have thrilled neutral fans as much as their own. What is the secret of their surprise success in their debut major tournament?
---
In a rather underwhelming game Hungary and Iceland were forced to accept a point apiece in Group F. The result means Iceland will need at least a point in their final game, while Hungary are on the brink of the last 16.
---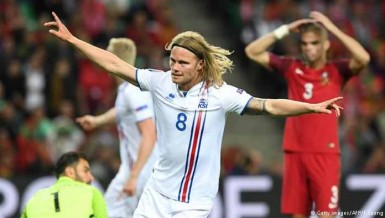 Iceland overcame massive odds to book a 1-1 draw against the fancied Portugese in Group F. Portugal had 72 percent of the ball and 26 shots on target. But in the end it was one goal apiece.
---
End of Section