Latest in Tag:

idlib

Highlight
Latest in Tag:

idlib
---
Basic food items begin disappearing from Lebanon's markets due to coronavirus
---
The shelling was fired by the Turkish forces positioned on Syrian-Turkish border and targeted areas in the western countryside of Idlib province, said the Syrian Observatory for Human Rights.
---
Russia blames Turkey for not notifying its advancements, amid Syrian shelling
---
Russia had asked militant groups to let civilians leave Idlib through the three points, adding that the Russian forces had informed people about the evacuation points via SMS messages, leaflets, TV, and radio reports.
---
Turkey hosts the largest number of Syrian refugees, more than 3.7 million people 
---
The report noted that the army destroyed rebel positions and fortifications and eliminated large numbers of the rebel militants.
---
At least 50 people were killed in intensive air and ground strikes in Syria 
---
---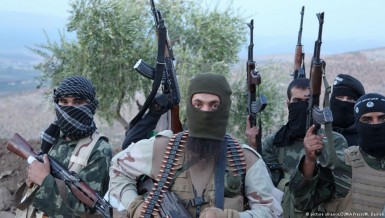 US accuses Al-Assad government of using chemical weapons in Ghouta
---
Weekend airstrikes by unspecified belligerents have destroyed a hospital in northern Syria, Doctors Without Borders reports. Elsewhere, recent attacks by Russia have flattened opposition areas of Aleppo.
---
The Shi'a Hezbollah movement, allied to the regime in Syria, has confirmed a six-month truce deal with Sunni rebels in three Syrian towns. The deal entails the transfer of thousands of civilians across the front-lines. Iran played a key role as a mediator during the UN-backed talks, Hezbollah chief Hassan Nasrallah said on Friday. Under the …
---
A monitoring group has said talks yield 48-hour ceasefire in northwest Syria along Lebanon border. A simultaneous ceasefire has been called to give relief to two loyalist villages in Idlib province. The UK-based Syrian Observatory for Human Rights says a deal to halt attacks was reached late Tuesday by the Islamist insurgent group Ahrar al-Sham …
---
AFP – Mortar rounds fired on schools in the Syrian capital on Tuesday killed a child and wounded more than 40 people, among them more children, state media said. Rebels fighting to oust President Bashar Al-Assad hold some territory on the outskirts of Damascus from which they have regularly launched mortar and rocket attacks targeting …
---
Activists from the Syrian Revolution General Commission network said the blast took place in the market area of the Darkush, which is under rebel control.
---
---
Up for grabs are two seats for the province of Aleppo, one for Hama, another for Idlib and a fifth for Hasakeh, SANA said.
---
The rebel Free Syrian Army claimed the downing of a MiG jet west of Aleppo.
---
End of Section