Latest in Tag:

International Cooperation Minister

Highlight
Latest in Tag:

International Cooperation Minister
---
Egypt's Minister of International Cooperation Rania Al-Mashat has announced that her ministry will focus, in 2021, on enhancing green financing tools, and ensuring the presence of the private sector in Africa.
---
The meeting took place prior to the start of the international organisation's annual meetings of its Board of Governors which is scheduled to start on Thursday.
---
The meeting focused on how to continue the deployment of international leadership as the novel coronavirus (COVID-19) pandemic continues, and implement novel business models for deep social cohesion.
---
The virtual event will also announce the election of the EBRD's new president, after the end of Suma Chakrabarty's term.
---
Egypt one of several countries that learned much through constant monitoring of coronavirus and regular communication on efforts to contain virus, says Minister Al-Mashat
---
Egypt's Minister of International Cooperation Rania Al-Mashat has met with the members of the Egyptian Military-Diplomatic Representatives abroad.
---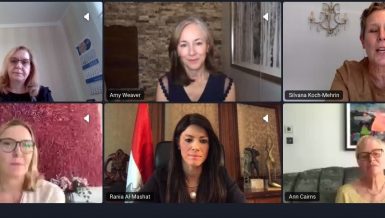 The minister's remarks came during her participation in the UN's Women Political Leaders Session on Thursday, which occurred as part of the celebrations for the UN's 75th Anniversary.
---
---
EBRD has invested over €6.5bn in more than 116 projects in Egypt, covering all economic sectors
---
The project will help raise Egypt's market value in exports and ensure that families and households become more sustainable, according to Minister of International Cooperation, Rania Al-Mashat.
---
Minister Al-Mashat notes the grant has contributed to sustainable development in Egypt
---
Minister and representatives from international financial institution, private sector discuss mechanisms to deal with pandemic
---
Minister of International Cooperation Sahar Nasr met with a delegation of the European Union (EU) to Egypt, including Christian Leffler, deputy secretary general for European external action service (EEAS), Simon Mordue, deputy director-general for migration and asylum, Maciej Popowski, deputy director-general for neighbourhood and enlargement negotiations, and Reinhold Brender, acting head of the European Union …
---
International Cooperation Minister Sahar Nasr met on Sunday with Egypt's former Mufti and the chairperson of the Board of Trustees at the Misr El-Kheir Foundation, Ali Gomaa, at the ministry's headquarters. They discussed the progress of establishing several small businesses in the New Valley governorate with funding worth EGP 250m, according to an agreement signed …
---
---
Revolutions begin with an economic slowdown, then comes development and recovery to meet citizens' high ambitions, says Sahar Nasr
---
End of Section