Latest in Tag:

International Cooperation Ministry

Highlight
Latest in Tag:

International Cooperation Ministry
---
Minister Al-Mashat plans to support academy academy programmes through its Multi-Stakeholder Platforms
---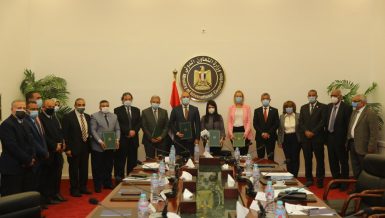 The AfDB will provide financing of €108m in addition to a grant of €1m, with the project set to benefit some 22,000 households in the governorate.
---
The meeting took place at the Ministry of International Cooperation's headquarters, to discuss the achievements of recent projects, and the proposed plan during fiscal year (FY) 2020/21.
---
Joint committee aims to deepen bilateral ties, enhance economic diplomacy and investment among Arab countries
---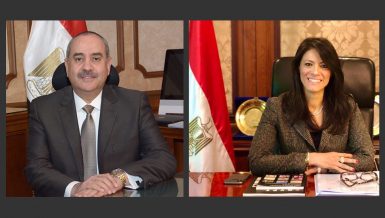 Ministers of International Cooperation and Civil Aviation outline cooperation to support aviation sector investments
---
The meeting was held in the presence of Richard Dictus, Resident Coordinator of the UN Office in Egypt, as well as directors of 15 UN agencies with a presence in the country.
---
Increased coordinated action key to boosting confidence, stability in global, regional, and local economies, says Al-Mashat
---
---
Survey, prepared in collaboration with OECD, shows high alignment of development partners to country priorities
---
Grant will be used to train 150,000 families, lend 10,000 of them
---
Minister of International Cooperation Sahar Nasr said the government aims to achieve three key elements: boosting economic growth and GDP rates by working to create new jobs and support micro, small-, and medium-sized enterprises (MSME); supporting youth through training, rehabilitation, and skill development programmes; and eroding poverty and providing social protection for the most vulnerable …
---
Minister of International Cooperation Sahar Nasr met on Sunday with Stephanie La Frenchie, head of the French Development Agency's (FDA) bureau in Cairo, and Mohamed Bouabdallah, French Cooperation and Cultural Activity Consultant, in order to look into developmental projects in cooperation with France, according to the priorities of the Egyptian government at the present time. …
---
International Cooperation Minister Sahar Nasr and Japan's ambassador to Egypt Takehiro Kagawa signed a $396m funding agreement for the electricity sector rehabilitation project. Egyptian Electricity Holding Company chairperson Gaber Desouky, representing Egypt, and Teruyuki Ito, the chief representative of the JICA Egypt office, signed the executive agreement for the project. Nasr said that the …
---
Minister of International Cooperation Sahar Nasr met on Tuesday with EU representative and the Commissioner for European Neighbourhood Policy, Johannes Hahn, to sign an agreement on six projects worth €130m, according to a statement from the ministry. The projects that will receive financing from the agreement include the construction of a wind power plant in …
---
---
Ministry has provided $3.8bn out of $5bn to finance 20 development projects during FY 2016/2017
---
End of Section