Latest in Tag:

interview

Highlight
Latest in Tag:

interview
---
After the enthronement of Pope Tawadros II, Daily News Egypt speaks with Bishop Basanti of Helwan and Maasara on the priorities of the Coptic community. Anba Basanti repetitively affirms, in a soft tone, that building churches is what grips his mind and heart.
---
Interview with Tharwat El-Kherbawy; an insider's look at the Muslim Brotherhood
---
Latvia's young Prime Minister, Valdis Dombrovskis, to the Egyptian youth: Self-organisation by forming political parties, interest groups and NGOs is the solution
---
Pope Tawadros: "If they implement Shari'a, we have many responses and ideas"
---
Minister Hani Mahmoud talks to the Daily News Egypt about the challenges facing the revitalisation of the ICT sector and sheds light on the government's plan to overcome the stumbling blocks lying ahead
---
Presidential adviser Ayman Al-Sayyad speaks to DNE
---
Open Your Bags, Please is a series of interviews where the audience is invited to participate and ask the choreographers anything they would like to know, "even if it is as simple as 'why did you wear that costume in your last show?'" said Hafez.
---
---
DNE speaks to Doctor Abdel Hamid Omar Abaza, assistant to the Minister of Health and Population, about the new universal healthcare law
---
Interviewed By Wafaa Abdel Bary What is your mission during your first year in office, and what is your plan to improve the Ministry's performance? My first year's mission encompasses restructuring the Ministry, laying down the legislative plan and general guidelines, and pushing through several urgent legislations. In addition, the Ministry is working on a …
---
As a prominent member of the Constitution Drafting Committee, what do you predict for the future of this assembly in light of the forthcoming Administrative Court ruling in September? It is hard to predict the outcome of the court ruling. The Constitution Drafting Committee members are exerting tremendous efforts. Although the makeup of the committee …
---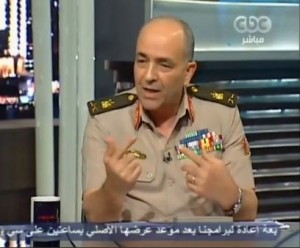 In a CBC interview last night, Major Generals Mohamed El-Assar and Mahmoud Hegazy said that the supplementary constitutional decree not limit Morsi's powers and that they would practice limited legislative authority
---
End of Section