Latest in Tag:

Japanese

Highlight
Latest in Tag:

Japanese
---
Egypt President praises great effort of Japanese experts in such vital national project that forms part of state's strategy to develop Egyptian citizens
---
Recognition given as Ahram Canadian University establishes Japanese Department
---
Avigan used in Japan for new influenza strains, shows promise with coronavirus patients
---
Cairo, Tokyo enjoy longstanding, diverse economic cooperation, says official document
---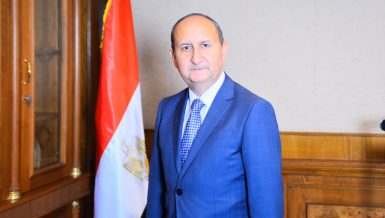 Japan considers establishing industrial zone at Suez Canal: Nassar
---
Borussia Dortmund's Japanese midfielder Shinji Kagawa has revealed some of his thoughts on the night BVB's team bus was attacked, and how they continue to affect him. Dortmund will contest Saturday's German Cup final.Shinji Kagawa's blog post to mark the end of the Bundesliga season returned to the night of April 11, when an attacker …
---
Race between Korean and Japanese brands, and absence of the European brands 
---
---
70% deficiency in the market; spare parts for Korean, Chinese, Japanese, European models are absent
---
Coinciding with September's deliveries, further price hikes have swept across approximately 137 models from all the well-known brands in the automotive market, registering record highs as a result of the price increases companies have put in place on newly imported shipments and the low supply offered in the market. These price hikes were registered for …
---
Japanese electronics company Toshiba has said it's swung to a profit in its April-June quarter. The earnings report came as the firm kept trying to turn the page on an embarrassing accounting scam.
---
The number of young Japanese men and women wanting to get married has seen a sharp decline, reveals a new study. What are the reasons behind this trend and how is it impacting society? Julian Ryall reports from Tokyo.
---
Korean brands maintained the top spots of the sales market, and the brands achieved sales of 14,500 units worth EGP 2.46bn, despite the decline of sales by 24.7% compared to 2015.
---
Despite a slow start, Pedrosa was able to get back into the race, finishing more than eight seconds ahead of his runner up; the Italian Valentino Rossi of the Yamaha team.
---
---
By Mohammed Nosseir Democracy and modernisation are not western products that the west is trying to export to certain countries that have a shortage. They are universal values that, for many reasons, the west was able to espouse and implement before other countries. Among these reasons was a particular mix of culture, law and leadership that …
---
"the gateway to sushi and self-discovery"
---
End of Section