Latest in
---
Ministry has taken into account all scenarios if Covid-19 crisis carries on
---
Researchers and innovators are encouraged to present solutions improving health care capacities to combat COVID-19.
---
In his speech on opening day, Abdel Ghaffar stressed the importance of holding Egyptian Science Month, within the framework of Egypt's vision towards sustainable development 2030, in spreading science, technology and innovation. 
---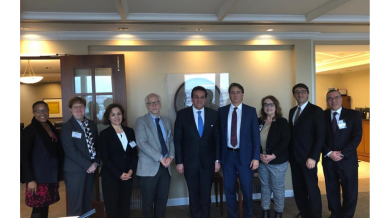 Abdel Ghaffar meets with WB, IMF representatives
---
Chairperson of El-Sewedy Education, Ahmed Elsewedy, said that the university presents a unique model for developed educational services based on the latest educational methods. It hosts branches of international universities that allow for studying their most distinguished majors.
---
Centres worth $90m, says statement
---
Total missions until the past fiscal year reached 371, including 950 students with a cost of EGP 691m
---
---
End of Section