Latest in Tag:

Lebanese

Highlight
Latest in Tag:

Lebanese
---
The proceeds of the theatrical work are intended to support theatres affected by the terrible explosion at the Beirut Port on 4 August last year. The work brings together a number of the most prominent Lebanese actors and British writers, and addresses the Lebanese reality in a dramatic and comedic manner.
---
Aboul Gheit emphasised importance of global solidarity with Lebanon in these difficult circumstances, urging that Lebanese should help themselves as well.
---
Photos by Ahmed Hendawy and Asmaa Gamal
---
The popularity of this particular cuisine in Egypt is timeless and will always attract fans, says Mido
---
Prices in Greece may be cheap for Europeans and Americans, but difference between euro and the Egyptian pound makes it expensive for Egyptians
---
Security forces in Lebanon have removed activists who had taken over part of the environment ministry building to protest the country's rubbish crisis. The "You Stink" movement is taking on the country's political class
---
At least 19 people killed
---
---
AFP – Egypt has barred entry to a Lebanese activist who wanted to deliver a petition against a court's death sentences for 529 alleged rioters, an official with the activist's group said Friday. Wissam Tarif, a member of the US-based Avaaz human rights organisation, was detained at Cairo airport for several hours and put on a …
---
Termos was among 11 Shia men abducted by rebel fighters in northern Syria in May 2012 as they were returning from a pilgrimage to a Shia sacred site in Iran along with female relatives.
---
Taboula comes to Zamalek with the same signature dishes for which it has become famous
---
Iranian media reported on Sunday that the Shiite-dominated Islamic republic has denied any link to the suspected spy cell
---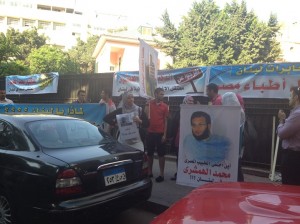 Patients and colleagues of detained doctor call for his release
---
End of Section