Latest in Tag:

market share

Highlight
Latest in Tag:

market share
---
EgyTrend Brokerage advances 123 places to fourth, with market share of 4.7%
---
20.11% decrease in total market capitalisation to EGP 532.9bn in March
---
Hermes Securities Brokerage second with EGP 4.6bn, CIBC in third with EGP 4bn
---
FAB scores highest growth in assets by 258.9%
---
Huawei phones' market share in Egypt during the second half of 2017 fell by 3% to 13.1% at the end of December compared to 15.9% at the end of June of the same year. Samsung held the largest share of mobile phone sales in the Egyptian market by the end of last December, according to …
---
Company sets new strategy to expand in local market with Chinese partnership
---
Company losses fell by 16.3% in third quarter of 2017
---
---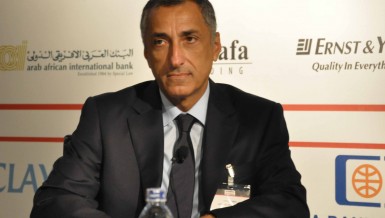 The company aims to expand further in the Egyptian market during the current period
---
Beltone said that ASEC contributed roughly 60% to Misr Cement's revenues, which reached EGP 723.067m during Q1 of 2016.
---
The Commercial International Brokerage Company (CIBC) came in second place through executing operations worth EGP 15.164bn, obtaining a market share of 9.3%. CIBC executed deals worth EGP 1.776bn, obtaining 7.82% of the deals market.
---
The company achieved half of last year's revenues as of Q1 of 2016, says Van
---
Beltone's research added that the firm has succeeded in building banking relationships which help it to obtain its foreign currency exchange requirements to import cars collected abroad or automotive components
---
The spread of online shopping through social networking websites caused drastic changes in the marketing sector in general, according to CEO of Dream Makers for Advertising Ahmed Sarhan.  It has, in turn, led to the re-consideration of the e-marketing share, he said. The proof of this is in the e-marketing share jumping from 2.5% to …
---
---
Android continued, in the Q3 2014, to dominate the market according to IDC, having gained 84.4% of the market by the end of the quarter, compared to 81.2% for the same period in 2013.
---
End of Section