Latest in Tag:

Nevine Gamea

Highlight
Latest in Tag:

Nevine Gamea
---
Another WB mission to visit Egypt next week
---
Both sides also discussed ways to enhance bilateral cooperation to increase Egyptian exports to the African market, as part of the Gosoor (Bridges) initiative, which aims to boost intra-trade between Egypt and other African countries. The initiative targets, in its first stage, 10 East African countries.
---
Gamea confirmed that the agency will continue to implement its strategy to support youth projects, and provide all aspects of financial, technical, and marketing support for these projects. She noted that the MSMEDA will continue to cooperate and coordinate with all ministries and state agencies involved in the small enterprise sector in order to advance this sector and expand its financing and participation in the country's economy.
---
Gamea was chosen to be the first Secretary-General of the former Social Fund for Development in November 2016, which is the highest executive position in the Social Fund.
---
MSMEDA to provide necessary financing to owners of small industrial projects
---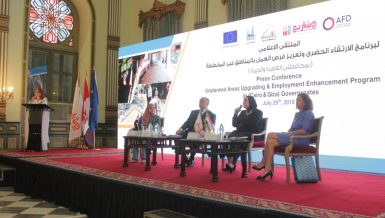 Since its inception, agency has provided EGP 6.4bn worth grants to implement labour-intensive projects
---
Women obtainment of micro funding amounts to 80%, says Nasr
---
---
Gamea reviews agency's most prominent future trends to collect more funding, draft new law for development of SMEs, microenterprises
---
Total of 203,000 small, micro projects with EGP 2.2bn funding, providing 291,000 jobs
---
'We are anticipating president's approval on several deals of $200m with World Bank, €50m with AFD, €30m with KfW, €27m with EU,' says Gamea
---
Agency offered about EGP 250m to finance infrastructure, social development, training projects that provided nearly 39,000 jobs
---
Women earned 49% of all projects funded, held 56% of total job opportunities says Gamea
---
Authority aims to finance small projects to limit irregular migration, support Egypt's sustainable development strategy, says Gamea
---
---
Agency injected EGP 5.3bn into projects during 2017
---
End of Section