Latest in Tag:

Niger

Highlight
Latest in Tag:

Niger
---
Road map aims to strengthen military capabilities of national armies and joint force of Sahel Coalition
---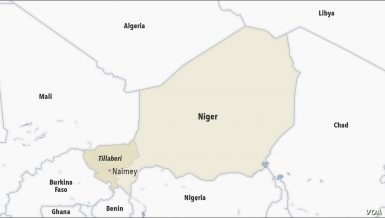 At least 70 civilians were killed and 20 others wounded on Saturday by attackers in villages of Tchombangou and Zaroumdareye in Tillabery region in Niger
---
On Sunday, gunmen killed 6 French nationals and 2 Nigeriens in a wildlife park near Niger capital Niamey, amid increased terrorist activity in Sahel region
---
Egypt has won the membership of the AU Peace and Security Council 2020-2022.
---
It might sound like a tall tale, but giraffes are in danger. Their numbers are falling in West Africa. But there's hope. Conservation groups hope a protected area in Niger could help.Project goal: Giraffes and local communities to live together in peaceful co-existence, poachers to be given harsher penalties, tourism to be brought to the …
---
An oil pipeline belonging to the Italian oil company Agip came under several attacks in Nigeria's oil-rich Bayelsa state. On Friday, the oil militants, the Niger Delta Avengers, claimed responsibility for the attacks.
---
Nigeria's oil-dependent economy is under siege from militants who are targeting oil and gas installations in the Niger Delta. President Muhammadu Buhari is to make his first visit to the region this week.
---
---
Six killed, 10 arrested by police forces
---
Three others were injured
---
Harsh condemnation of IS, Boko Haram ideology by Egyptian foreign ministry and Dar Al-Ifta; Chad and Niger attack Boko Haram on Nigerian soil
---
Islamist dominated GNC appoint rival PM as international community calls for calm
---
Reuters – The private sector arm of the Jeddah-based Islamic Development Bank plans to increase its activities in Africa, part of plans to widen the appeal of Islamic finance across the region, its chief executive said. Established in 1999, the Islamic Corporation for the Development of the Private Sector (ICD) supports the economic development of …
---
Niger, an impoverished but mineral-rich former French colony which adjoins southern Libya, has had to contend with numerous Islamist attacks and kidnappings on its own soil, some of which have threatened the security of its uranium production.
---
---
Abduction confirmed by an aid group and a security source
---
UN mission in Western Sahara will remain unchanged
---
End of Section