Latest in Tag:

nuclear power

Highlight
Latest in Tag:

nuclear power
---
"We proudly witness start of Barakah nuclear power plant operations, in alignment with highest international safety standards," Abu Dhabi crown prince tweeted
---
Switzerland will go to the polls on Sunday to decide on a government plan that aims for a withdrawal from nuclear power in favor of renewable energy, with the costs of the move being in the focus of the campaigns.Sunday's referendum comes after a signature campaign organized last October by the Swiss People's Party (SVP) …
---
Committee suggests price ranging between EGP 1.02-1.08 per KW/h
---
The temporary disconnection of several nuclear power plants for regular checks in France has prompted a grid operator to warn against possible power cuts in December.
---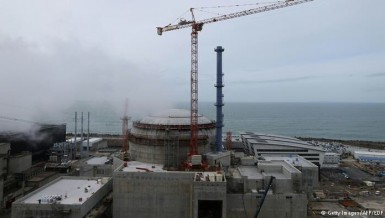 With existing debts of more than 37 billion euros, the board of France's EDF energy company has voted to go ahead with building a 21-billion-euro nuclear power plant in the UK. The project faces technical challenges.
---
Germany's decision a few years ago to phase out nuclear power was an abrupt move. But it still remains unclear who foots the bill for shutting down the nation's nuclear plants, as utilities seek damages from the state.
---
Russia has signed an agreement with Egypt to build the country's first nuclear power plant. The deal includes a loan to cash-strapped Egypt, which has considered building a nuclear plant since the 1980s. Under the agreement signed on Thursday Russia's state-owned nuclear company Rosatom would build and operate four 1,200 MW nuclear reactors at Dabaa …
---
---
As part of a deal with Britain, the first Chinese nuclear power station in Europe could be built just 90 kilometers from London. Local residents are concerned about national security, the environment and safety. On a crisp, October Sunday along England's Blackwater Estuary, hundreds of people gathered to protest against plans to allow China to …
---
Director General of IAEA expressed willingness to send delegation to Cairo to assist in putting up regulatory framework for project establishment
---
We as a company think that Egypt has been and will be a good place to work, says President of Europe, Africa and Middle East region
---
Al-Sisi's electoral platform not limited to solving energy crisis with replacement of household light bulbs, which sparked wave of ridicule on social networking sites
---
"This is the second-biggest investment made in Turkey after the two nuclear power plant projects," Turkish Energy Minister said
---
Japan goes to the polls on December 16, with most commentators expecting no party to gain overall control of the powerful lower house
---
---
End of Section