Latest in Tag:

protests

Highlight
Latest in Tag:

protests
---
The Egyptian Centre for Economic and Social rights reported protest movements rose dramatically during the second half of June. A contentious presidential election seemed to account for the rise. The Egyptian Centre for Economic and Social Rights recorded only 38 protests during the first half of the month, but 119 protests ended the month. Reasons …
---
Security forces met the demonstrations with a violent crackdown that included the use of tear gas and batons as well as several arrests
---
Three Bahraini policemen face possible death penalty for killing protesters
---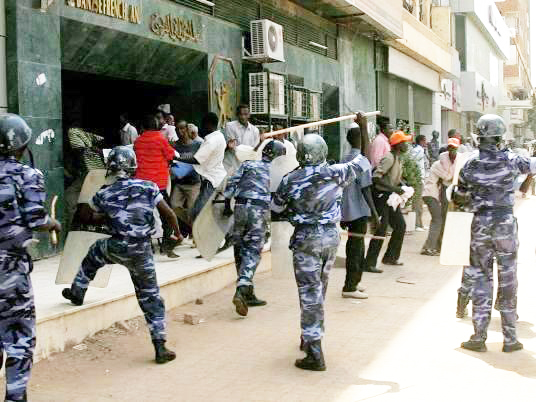 The recent austerity measures taken by the government have included raising taxes and deep cuts to services like public health care.
---
Israel's social justice movement attempts to bring back last summer's tent cities
---
Calls for a mass protest are being made on Facebook for June 30
and it seems that these protests are only intensifying the face of state repression
---
Recent reports have thinned the gap of votes between the two candidates to less than a million, with the Muslim Brotherhood putting their candidate in the lead and Ahmed Shafiq slinging accusations of wrongdoing against his opponent
---
---
Over the past week police have been firing tear gas, beating protestors with batons, as well as conducting mass arrests of activists.
---
Egyptians have managed to bring down a deeply-ingrained autocratic regime and set up what is proving to be a relatively close democratic presidential election, all in the hours people normally watch television before going to bed. Workers by day, fighters of injustice by night; the protesters are truly the collective Batman of the revolutionary world.
---
Parliament march turned away by security forces and returns to familiar haunt in Tahrir Square
---
Traffic on 6th of October Bridge halted for more than an hour because of a protest.
---
By Tamim Elyan / Reuters CAIRO: A group of Egyptians are marching 125 km (77 miles) along a major highway to Cairo to take part in a demonstration in Tahrir Square, stretching the boundaries of the country's flourishing culture of political activism. Fifteen activists decided to walk from their hometown of Suez across the desert …
---
Tens of thousands Alexandrians join a march on Friday against military rule.
---
---
By Agencies CAIRO: Salloum residents set fire to a military intelligence building, blocked a major road and set fire to car tires on Wednesday after two people were killed in clashes between residents and army officers a day earlier, witnesses said. Protesters in the northwestern city of Salloum, located near the Egyptian-Libyan border, had taken …
---
By Heba Hesham CAIRO: Hundreds marched Wednesday from Tahrir Square to the nearby parliament building to protest against the make up of the Constituent Assembly as it held its first meeting. Activists, political parties and revolutionary movements protested to declare their rejection of the formation of the panel tasked with writing Egypt's new constitution, saying it …
---
End of Section