Latest in Tag:

Ronaldo

Highlight
Latest in Tag:

Ronaldo
---
The Conference's website stated that Atlético Madrid's striker, Antoine Griezmann, Frenchman Kylian Mbappé Lottin of Paris Saint-Germain, and Cristiano Ronaldo, the star of Juventus, are the three candidates for the award.
---
The international football friendly matches held last week witnessed the scoring of many remarkable and unforgettable goals in national teams' histories. Many international footballers succeeded in boosting their scoring chart with their national teams. The latest of these friendly games also saw Egyptian star Mohamed Salah's progress on the list of top Egyptian goalscorers with …
---
Tax allegations or no, Cristiano Ronaldo delivered the goods early as Portugal bested Russia in their Confederations Cup game. With their first win, Portugal leapfrog Russia in Group A.Russia 0 – 1 Portugal (Ronaldo 8′) Spartak Stadium, Moscow Portugal took the lead in Group A on Wednesday evening in Moscow thanks to a goal from …
---
Cristiano Ronaldo scored his 100th Champions League goal as Real Madrid sent 10-man Bayern Munich out of the competition with a 4-2 win (6-3 agg.). But Ronaldo's second and third goals were offside.Real Madrid 4-2 Bayern Munich (6-3 agg.) (Ronaldo 76′, 105′, 109′, Asensio 112′ – Lewandowski pen 53′ Ramos og 78′) Cristiano Ronaldo scored …
---
Twelve years ago Ronaldo was left in tears after Greece wrecked his Euro dream. This time the Real Madrid star was in tears, but the script had a very different ending.
---
France and the in-form Antoine Griezmann go in to Sunday's Euro 2016 final searching for the country's third successive tournament win on home soil. But Cristiano Ronaldo and his Portuguese teammates stand in their way.
---
With both Portugal and Austria winless in the European Championship, both sides were looking to get off the mark in Paris, but Ronaldo's penalty summed up Portugal's night.
---
---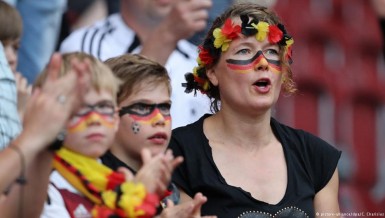 Football fans love to sing, no matter what the score is – and apparently some players do, too. Here are some of our favorite classic soccer songs to get in tune for Euro 2016.
---
Will Real Madrid reach another final or can Manchester City make more history by reaching their first? Boosted by Ronaldo's return and Bale's form, Real Madrid are the favorites to be in Milan at the end of May.
---
Despite many predicting a Barcelona win, late goals from Benzema and Ronaldo claimed all three points for Real Madrid. Barcelona's lead at the top of the table has now been cut to six points.
---
Real Madrid's worst cup concerns have been realized. Despite winning, the fielding of Denis Cheryshev on Wednesday night has proven a costly mistake for Cristiano Ronaldo's team. Real Madrid have been thrown out of the Spanish cup, the Copa del Rey, after they used an ineligible player in Wednesday's last 32, first leg match at …
---
All three finalists for the Ballon d'Or award as player of the year come from Spain's Primera Liga. Three German World Cup winners failed to make the final cut. Ballon d'Or holder Cristiano Ronaldo (pictured, above right) of Real Madrid was joined by two members of FC Barcelona on the three-man list of finalists unveiled …
---
Three members of Germany's 2014 World Cup-winning team have been named to the shortlist for the annual Ballon d'Or award as the world's best football player. Current holder Cristiano Ronaldo is among the favorites. Bayern Munich goalkeeper Manuel Neuer, his teammate, Thomas Müller and Toni Kroos of Real Madrid were among the 23 players on …
---
---
Mourners, many in tears, threw red and white Benfica scarves on the hearse and waved red and green Portuguese flags as it passed by, crying out: "Eusebio, Eusebio".
---
End of Section