Latest in Tag:

ship

Highlight
Latest in Tag:

ship
---
Egyptian-made boats are globally competitive due to high quality and low prices, says shipbuilder Salah Al Sambskani
---
Antiquities to undergo restoration along with Tutankhamun's golden coffin
---
Challenges include clear legislation, elimination of bureaucracy
---
A British-owned cruise ship has smashed into pristine coral reefs, causing extensive damage in a remote corner of Indonesia known as one of the world's most biodiverse marine habitats.Raja Ampat in eastern Indonesia has long been a top attraction for intrepid travellers and avid divers, home to palm-fringed islands surrounded by an underwater kaleidoscope of …
---
This reflects the importance of establishing the new Suez Canal to increase the canal's capability, says Suez Canal Authority chairman
---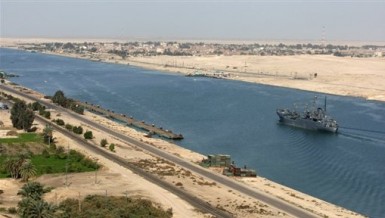 Navy extinguishes fire, but ship suffers serious damage
---
Group posted photos of the attack, army says exchange of fire set vessel ablaze
---
---
Ongoing negotiations with Sudan over detained Egyptian fishermen
---
The prosecution ordered their detention for four days pending further investigations, state media reported.
---
At least eight fishermen are believed to be dead, many still missing
---
The military says it found 40 long-range M-302 rockets aboard the Panamanian-flagged Klos-C it intercepted in the Red Sea last week, as well as 181 122mm mortar shells and approximately 400,000 7.62-calibre rounds.
---
Egypt said its navy seized an arms-laden ship as it sailed from the Israeli port of Eilat to Togo in West Africa.
---
As yet unknown but presumably well organised group responsible
---
---
End of Section