Latest in Tag:

Sir Geoffrey Adams

Highlight
Latest in Tag:

Sir Geoffrey Adams
---
The British Egyptian Business Association (BEBA) has held an event to bid farewell to Sir Geoffrey Adams, the UK's Ambassador to Egypt, who is stepping down from the role. The event was attended by: Mohamed Maait, Minister of Finance; Yehia Zaki, Chairperson of the Suez Canal Economic Zone (SCZone); and Ahmed Kamaly, Deputy Minister of …
---
El-Said said that Egypt's economic and social reform programme that the government implemented between 2016 and 2019 contributed to improving the country's economic indicators and strengthened its resilience.
---
UK would work on Joint projects with Egypt to restore Egyptian archaeological sites
---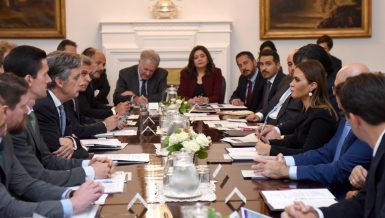 Key investors such as AstraZeneca, BP Egypt, GSK, HSBC, Vodafone Egypt, Shell, and Unilever participated in the forum, to discuss their future investment plans and identify ways to improve the business environment in Egypt.
---
Local authorities try hard to develop the health care system, says McMillan
---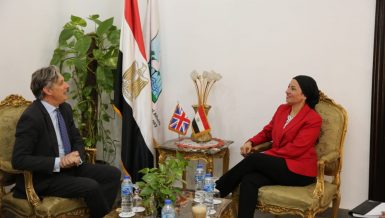 Alliance will be officially announced by UN Secretary-General in September
---
Delegation to meet senior government officials, heads of hospitals, visit SCZone
---
---
British Ambassador to Egypt, Sir Geoffrey Adams, welcomed the Chevening Alumni and the 2017/18 retuning scholars to celebrate the programme's continued success.
---
Tourists across world visit Egypt to enjoy its rich history, heritage, says British ambassador
---
Egypt already has considerable track record of attracting private sector investment in infrastructure; forum should provide impetus for re-launch to international markets: Armsby
---
Two-day exhibition hosted 75 Egyptians companies, 125 regional, international companies
---
Adams previously served in Egypt from 1998 to 2001 as deputy head of Mission in Cairo, while he joined Her Majesty's Diplomatic Service in 1979.
---
End of Section