Latest in Tag:

storm

Highlight
Latest in Tag:

storm
---
Meanwhile, Egypt highlighted its solidarity and stand with the Government and people of China during this difficult time.
---
The campaign aims at challenging many people to help poor families as much as they could for the coming months.
---
Under the directives of President Abdel Fattah Al-Sisi, the government started to repair all damages caused by the recent storm in the country and carrying out solutions to enhance drainage network in several new urban communities and most affected areas.
---
Around 64 sewage vehicles were deployed in several regions
---
Ministry of Social Solidarity releases compensations for wounds, families of dead 
---
Irrigation minster went on an inspection tour to Alexandria
---
Staff at Radio Horytna questioned over political allegiances and news production
---
---
Situation of Christians to be discussed with Al-Sisi; EGP 21m paid in six months as ransom for kidnapped Copts, Nagib Gabriel says
---
Stormy weather causes flooding, evacuation of villages and building collapses across the nation
---
In Alexandria the relentless winds and rain resulted in a very high tide and drove one boat onto the rocks lining the famous Corniche.
---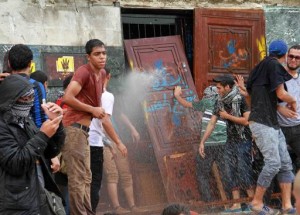 Public prosecution authorises security forces' entrance to campus after students storm administrative building
---
In Jordan, the government declared Wednesday a public holiday due to the icy weather
---
End of Section